You can display graphs and charts with any data about your customers from your accounting or ERP system on the Account Dashboard. 
Wouldn't you want to present your reps with a commission report per category/per customer in a graphical way?
Would you like to show any other type of analytics that will motivate them to sell more and be more knowledgeable in front of your customer?
Pepperi allows you to add your own data to the Account Dashboard and create charts from any ERP/CRM/ BI or other accounting system data.
Import XML data and format in charts using XSLT and display it in multiple tabs across the upper and lower Account Dashboard. 
Each tab on the Account Dashboard is called a Widget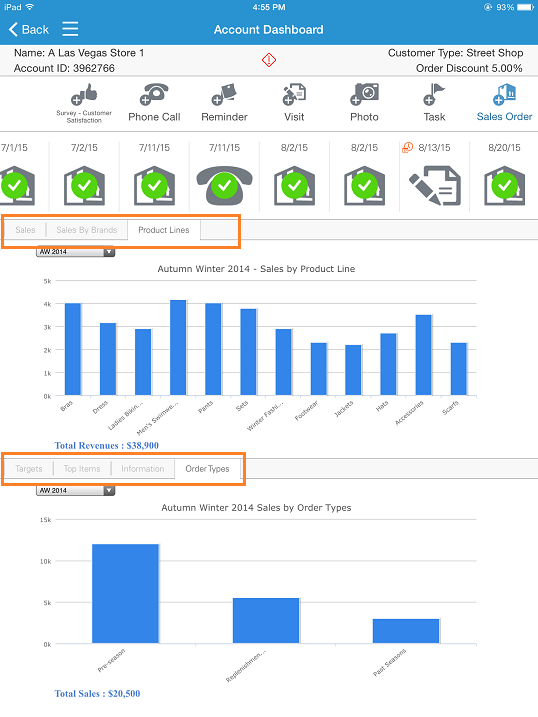 This may require some technical knowledge (XML, XSLT) and our service department will be happy to build additional templates of charts tailored to your needs.
There is a sample XML file and XSLT file attached at the bottom of this article for your reference.
To add Widgets to the Account Dashboard you need to first load the XML data file and then go to the Account Dashboard customization section in the Pepperi Web Admin.
To load the XML data for the Widgets go to
Settings -> ERP Integration -> Upload Data
Select Accounts - custom from the data pull down menu options.
Browse to the XML file containing all the data required for the additional charts and graphs you wish to create and load.
This data should be updated automatically via FTP using the automatic ERP integration.
Next, add the widget to the configuration files and then position it on the Account Dashboard (upper/lower).
Add the widget to the configuration files:
Go to Settings -> Configuration Files -> Configuration Files
Click Add new file and select "Dashboard Widget file".
Browse to the XSLT file you need and load it.
Name the Widget with a title. This title will be displayed on the upper or lower dashboard area as a tab for your sales rep to tap on to see the chart/graph.
Browse the XSLT file containing the formatting instructions for the XML data loaded.
Position the widgets you created in tabs across the upper or lower sections of the Account Dashboard.
Go to Settings -> Accounts -> Account Dashboard Layout
Go to the Dashboards tab and drag the widgets to the desired area.
They will now appear on Pepperi app in the Account Dashboard.