The Main Category is the highest level grouping of items in your catalog - called the "Main Category".
The Main Category tab is where you Add, Edit or Delete your Main Categories.
The process of uploading items via the Excel mapping as well as via ERP integration automatically creates main categories automatically, although sometimes the need to create them manually may arise.
Main Categories/Brands are displayed on the pull down menu for the sales rep to choose from within the catalog in Alphabetical Order.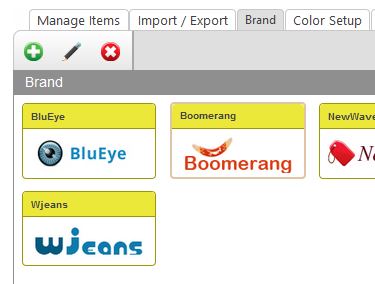 To Add a new Main Category click the "+" Add button. 
Enter the Name of the Main Category and upload an icon to be presented for the Main Category in the catalog information.
Months of warranty,Brand Instructions and Warranty Certificate information are not required (for use with VOS only).
* Vendor details are not required, they are displayed in this window only for your reference.
To Delete a Main Category select it and click on the Delete button. (Tip: Instead of deleting a Main Category that you may need again later on, you can always remove it from a filter - see Managing Filters -  or from a sales rep's access - see assigning main categories to sales reps in this article Manage Users - rather than deleting it).
To Edit a Main Category select it and click on the Edit button.