This article explains:
How to upload up to 3 file attachments such as PDF or video to associate with an item (also explains how to delete the files if needed).

How to associate a URL instructional link with an item.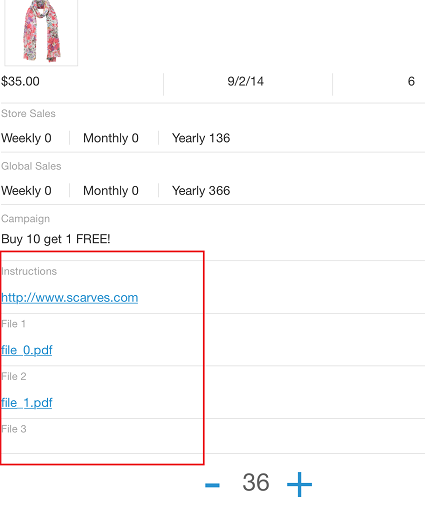 Attaching files to items
You can attach files such as PDFs, excel, word doc, videos etc that contain detailed information about the item, marketing data, instructions or any other information you wish to present along with the item in the catalog.
To attach these files (view-able offline in the app) go to Items -> Manage Catalog and click on the Upload Images button for the Item you want to add files to.
Scroll down to the Upload Files section.
Upload up to 3 files for each Item.
* File size should be less than 5MB.
*supportd file types: PDF,doc,docx,xsl,xslx,csv,mp4,mov
The files will be accessible from the "information" view of the item on the catalog (tap on the "i" next to the item in the catalog).
The uploaded files will say "Instruction file" once upload is complete (before uploadingit will say "No file").
Associating a link with an item
You can associate a URL with each item to provide a video or other web site is viewed in the Item Detail view in the Order Center (click on the "i" next to the item).
Type the link in the bottom of the Upload image screen and click Save.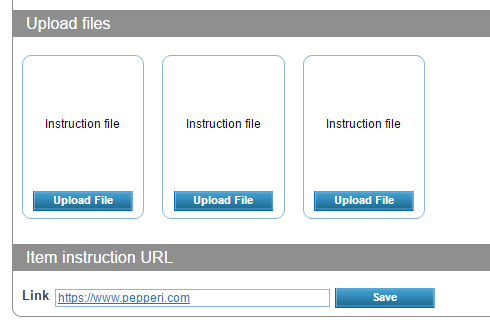 Delete an Uploaded File Attachment
To delete Instruction files you have uploaded you will need to import an Excel file.
Include only the items you want to delete the files for. Add 3 columns to the Excel - TSAttachmentFile0, TSAttachementFile1, TSAttachmentFile2
Do not put any values in these columns. Leave them blank.
Go to Items -> Manage Items to the Import/Export tab. Import the Excel file (click on the green arrow) In the mapping tool map those columns to the same fields in the mapping - TSAttachmentFile0,1 and 2. . .(you will see them in the list of fields).
Following the logic that TSAttachemntFile0 is the first file, ..File1 is the second file and ..File2 is the third file you uploaded, you can choose which file(s) you want to delete.
Again, do not put any values in these columns. When the import is completed, the files will be deleted automatically for all the items listed in this Excel.
Be careful not to include items that you DO NOT want to delete files for in this upload.