Assigning contacts to Accounts is done either in bulk via uploading a CSV file in the File Upload section on Pepperi Web Admin or individually via the Admin interface.
Please note that Sales Reps can also add contacts to Accounts that are assigned to them via the Pepperi app on their tablet. The contacts will then be synced to the Account information in the Pepperi back office.
To create contacts manually in the Pepperi Web Admin:
Go to Accounts and select the Account you wish to add contacts to and click on the Action menu -> Edit

Go to the Contacts field in the Account information.
Click the Edit link and you will be brought to the contacts screen where existing contacts are displayed.

You can edit/add/delete contacts from this screen.

Click on + Contact Person and fill in the relevant fields for the contact and click Save.
The contact is now added to the Account and will be synchronized to mobile users.
To load contacts in bulk:
You will need to create a CSV file with the contacts. The CSV file template with the required columns is attached below.
Make sure that the delimiter that you use in the file is the same as the one listed in your ERP settings.



To check this go to:

Settings

ERP Integration

Configuration



Check that the CSV Delimiter entered there is the same one you are using in your file.

For example: If a semi-colon is entered in the configuration, then make sure to use a semi-colon as your delimiter in your CSV file. If a comma is entered then use a comma, etc...



Next step is to load the CSV file:

Go to Settings
ERP Integration
Upload Data



Select Contact Person from the data file type: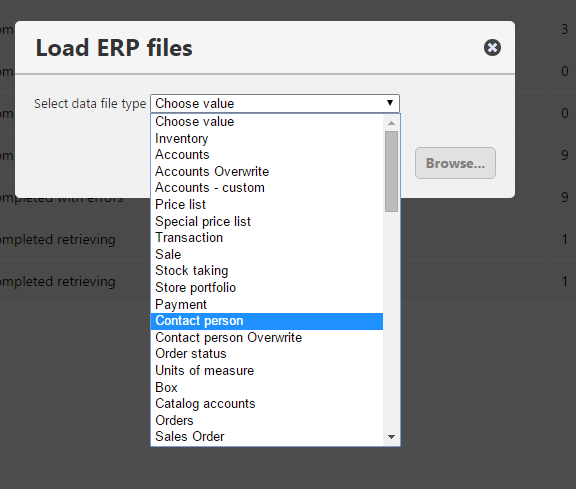 Browse to the CSV file you have created according to Pepperi's Contact Person template.
Here is an example of the Contact Person template with sample data. You can also download a sample file attached below:

The column headings must be identical to the ones in the template:
ExternalObjectID - Give the contact an ID number (mandatory)
ExternalStoreID - Account ID the contact belongs to (mandatory)
Prop_FirstName - First Name (mandatory)
Prop_MiddleName - Middle name or initial
Prop_LastName - Last Name (mandatory)
Prop_HomePhone - Phone
Prop_Cellular - Cellular phone number
Prop_Email1 - email address (required only for B2B Storefront)
Prop_Role - Role of the contact (not required)
Contacts may be viewed from the Web Admin under Accounts. Click on Accounts and select the Account you wish to see the contacts for. Click Action -> Edit and scroll down to the Contacts Person field. Click Edit and the list of contacts will appear.

Contacts may also be viewed in the detail view of the Account on the app (by pressing the "i" for more info on the Account card) and tapping on the Contacts link.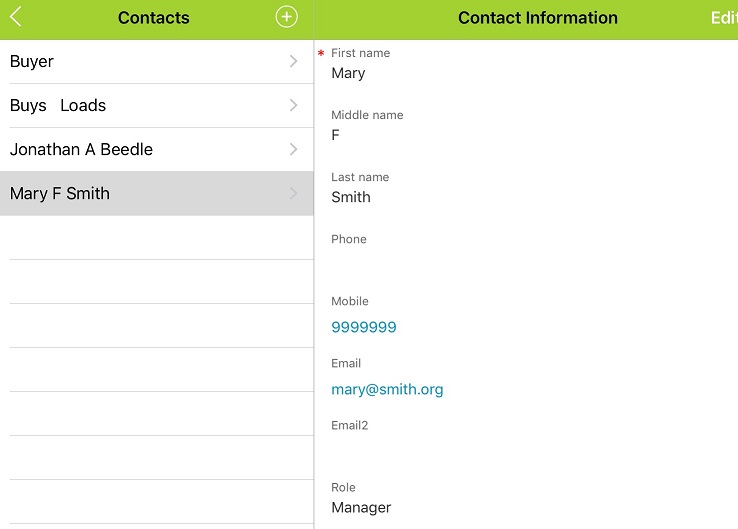 DOWNLOAD THE SAMPLE FILE FROM THE LINK BELOW
  |
  |
  |
  V