Granting or revoking the permission for a sales rep to edit the unit price or the unit discount on the cart at the time of the order is done on the Cart Grid View of the Transaction Type:
Setup -> Settings -> Sales Activities -> Transaction Types
(For more information on Transaction Types: Sales Transaction Types)
The Cart Grid View  allows you to configure which fields will appear on the Order table in the cart, the sorting criteria, and if the field is read only or not.
You may customize the order table and the read only option differently for the Pepperi App Cart, the Web Admin Cart and the PDF form.
Edit the form you want to configure (click on the pencil icon next to the name of form).

Select from Available Fields and add to the Layout section to indicate the columns of the cart layout. After adding a field to the Layout  you may change the title by clicking on the edit pencil button to the right of the field name and change it to the column heading you require.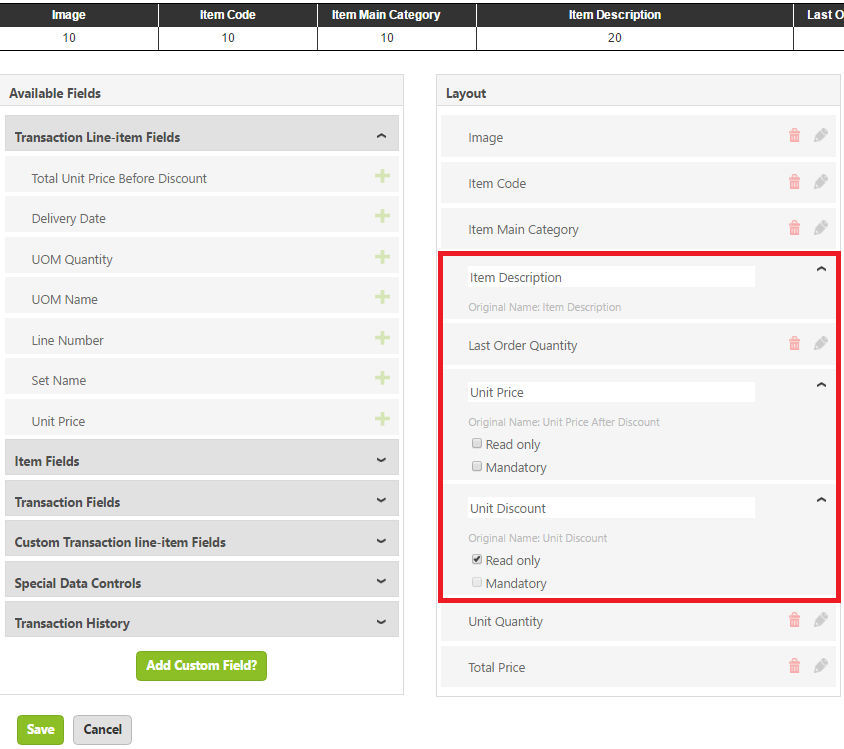 For "Unit price after discount", you may change the field to "Read only" meaning the sales rep will not be able to modify the field on the cart.

If you choose to display the "Unit discount" field, you may change the field to "Read only" preventing the rep from changing or adding any item discount percentage.
Only the relevant fields will have the Read Only option available. Other fields, such as "Item Description" will not have this option.
By marking the Unit Price as "Read Only" this is in fact preventing the sales rep from editing the order price to a price other than what was calculated by Pepperi (after applying any discounts and campaigns)
Click Save.