Placing an order via Pepperi Storefront
Pepperi's Storefront is a fast and easy way for buyers to place orders. This guide includes instructions how to place orders using the Pepperi Storefront. 
Home Screen

Placing an order

Brands/Main Categories, Filters

Catalog Views

Adding Quantities (quantity warnings)

Matrix Items (prepacks, properties)

Summary

Searching
Login to the Storefront https://backoffice.pepperi.com using any browser on any device. The Storefront is a responsive Web app and will look great on any size screen.
(Note that the distributor may have embedded the login on their web site or another web address, please check with your distributor if necessary)
Home Screen
After logging in, you'll be presented with the home screen. Typically, you will see a shortcut button to Order, a button to see your Order History (or "Activities") . You may also have additional buttons for Contact forms, or links to external content.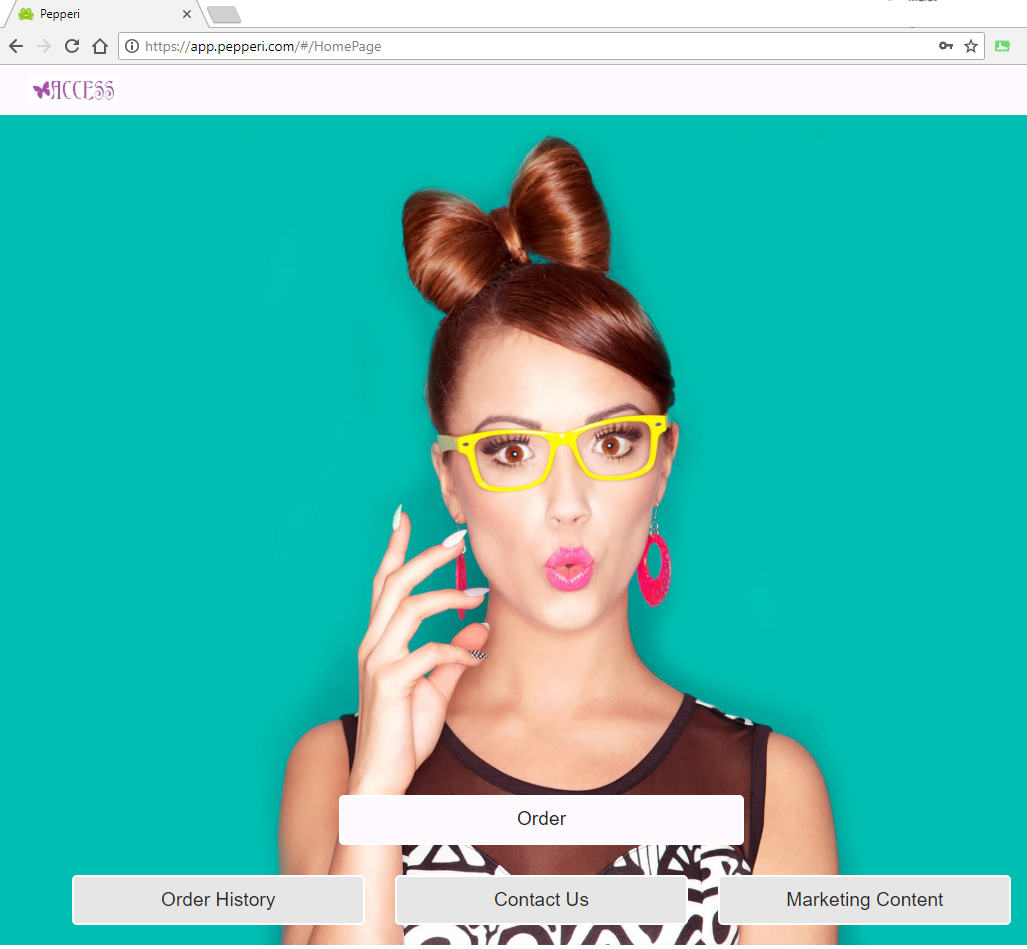 Place an Order
Click on the Order button (or similar). If there is only one catalog you will be brought directly into it, otherwise you will be presented with a selection of catalogs to choose from. Click on the catalog you wish to order from. 
Note: orders may contain items from one catalog only. To order from a different catalog, start another order.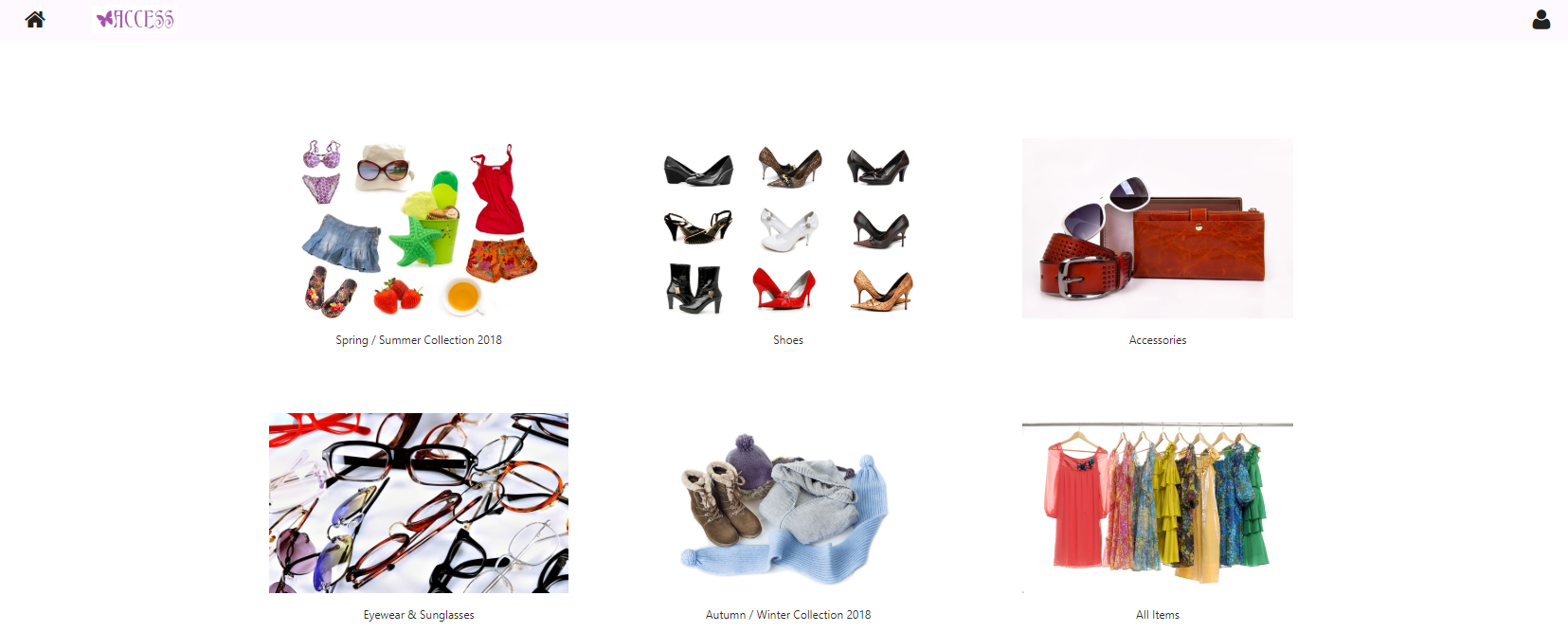 Note any information displayed by the seller about each Catalog - Description, Creation Date, Expiration Date, or any other fields that may be relevant.
Once in the Catalog, select the Main Category (or brand) from the menu, or click "View All" to view all products in all categories. You may also select a filter below the category - for example "Best Sellers". Filters differ, depending on the distributor's products.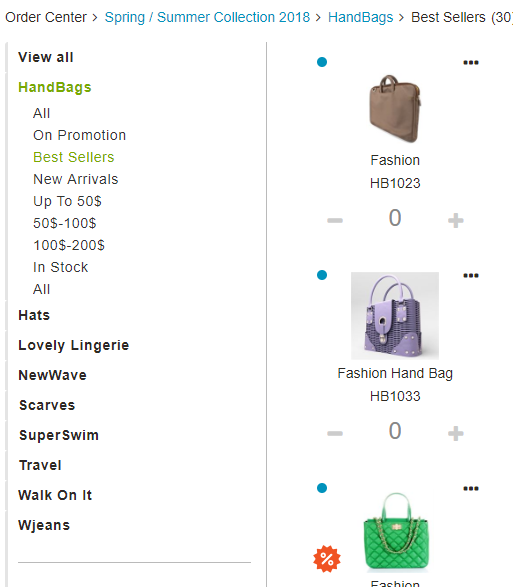 Catalog Views
You can change the view from Thumbnail to Grid View:
To view the details of an item click on it. A larger image and more item information will be displayed.
To zoom in on the item image, click the small magnifying glass icon in the item detailed information screen:
To add an item to the order, click on the + sign on the quantity selector and add the quantity you require.
If you order a quantity that is greater than the existing inventory or does not fulfill any minimum quantity or case quantity requirements, a warning may pop up informing you of the required quantities:
Matrix Items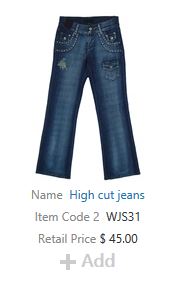 If you are ordering items that have color variants, click on "+Add" and enter the quantities you require of each variant.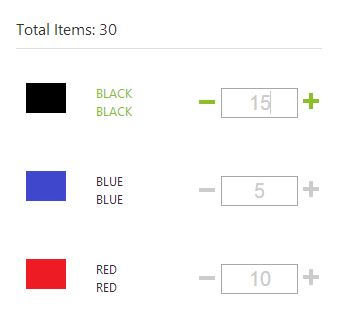 If you are ordering an item that has color AND size variants (matrix items) click on the "+ Add" and enter the quantities you require of each color/size variant of the style.
If you would like to enter a quantity for an entire color (row) or size   (column) select the column or row by clicking on the size or color and enter a value in the box that appears above and click "Apply". Here are examples of column and row multi-selection:
If there are pre-packs (pre-configured quantities per size) configured for the items you will be able to select a row (color) and then select a pre-pack from the list. Quantities set in the pre-pack will automatically be entered for the selected row (color).
Each time you click on the prepack name the quantity values will multiply by the prepack quantity.
For example: a prepack containing the quantities [ 6 S, 12 M, 12 L] will increment automatically to [ 12 S, 24 M, 24 L ] and then to [ 18 S, 36 M, 36 L ].
In order to see additional properties of the color/size variants in this view select from the menu to the right of the matrix.
The properties displayed depend on what was set by the seller - in this example you can see if the variant is pre-washed or not, or you can select to see the variant's inventory in stock.

Summary
As you add quantities of items you will be able to see a summary of the number of and amount of items and amount at the top right of the screen:
Click on the amount to see a percentage breakdown by brand name (main category):
Searching for an Item
You can search for an item by its Item Code:
You can also search for items in the Catalog based on their properties using the Smart Search:
Select a property and the values you want to see: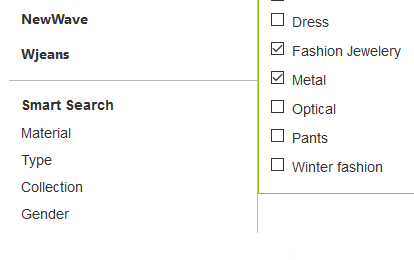 When you have finished adding the items you require to your order click on Cart.
Click here for detailed information on: Using the Cart