This article will walk you through the important process of defining which fields and prices will appear in the Pepperi catalog.
To configure which fields appear in the Pepperi Catalog views go to Settings -> Items

Click on the Order center view that you want to customize - Thumbnail, Grid, Matrix, Flat Matrix, etc.
Click on the form you want to customize: 
Sales Rep form - will affect the view's display on the app
Admin form - will affect the view's display on the Pepperi Web Admin interface
Buyers form - is relevant for B2B Storefront users. Configures the view buyers see on Pepperi Storefront.
Additional forms for any additional profiles you have created may also be added (for details see: Profile Management).
Add fields to the Layout by clicking the +
Sort the fields by dragging them up/down in the list. 
Rename their titles in the text boxes by clicking edit (pencil).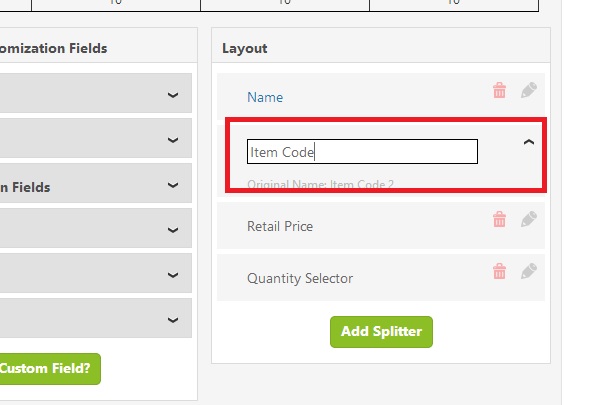 Order Center Medium view (6 items per page)
Fields in the list will appear in the Medium view of the item next to the item's thumbnail image.
Up to 3 fields can be displayed next to the item image. To view more fields add them to the Item Details View.
**For buyers using Pepperi Web Storefront the 3-field limit does not apply. All fields you add to the layout will be visible on the top level of the view with no need for drill down on the item.
Order Center Grid View (Table view)
The fields added  will appear as columns in the Grid view in the Catalog.
The name you give each field will be the column's title in the grid view.
Grid View Column widths:
After you add the required fields, they will be added to the column width section above and you will be able to control their width.
Type in a number between 10-200 in the column width settings to control the widths of the columns. 

Order Center Item Details view
This is the view shown when tapping on the "i" of an item in the catalog on a tablet in Pepperi. It's a full page view which can nicely display a long list of fields.
Catalog Item View
This is the read only Catalog view available from the home-screen of the Pepperi app on a tablet only. This catalog is not for ordering, it's for display purposes only.
It allows you to arrange the fields displayed next to the items in the Medium (6-item) view.