This version contains improvements to Activity management for managers, as well as shopping cart enhancements and image zoom in the order center.
Please note that to manage Activities with the old Workflow in the Managers App interface you will need to contact support to move to the New Workflow.
If you try to edit an "Old" Activity you will receive a notification and be directed to open the "Old Activity List" from the menu, which will take you to the Pepperi Web Admin interface.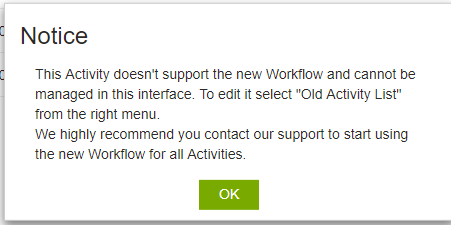 Activity List improvements (Managers App)
Cart and Catalog (Storefront)
Activity List improvements
Change Status
Admins can now change the status of Activities and Orders from the Managers App Activity Lists. 
Please note that status changes in the Activity List will not trigger any Activity or Transaction Workflow actions associated with this status change.
For example, if your Workflow runs a Webhook when the order status changes from In Creation to Submitted, and you change the status to Submitted via the Activity List, it won't run the Webhook. However, if you open the order and click on the Submit button the Workflow actions for this status change will be triggered.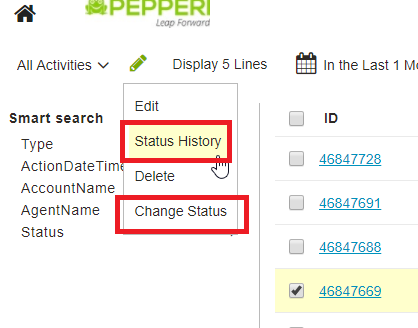 View Status History
You can now track the various status changes an Order/Activity goes through as it proceeds in the Workflow. The history of statuses can be viewed via the Activity List. Select an Activity and select "Status History" from the menu. 
For each status you will see the status, the information of the user who changed the status and the client that the user made this change from (iPad, Android, Web Admin, etc.).
The order below was created and submitted by the rep, and then revised and re-submitted by the admin:

Delete Activity and Restore from Recycle Bin
Admins can now restore deleted Activities from the recycle bin. If users deleted Activities by mistake, they can request their admin to restore them.
The Recycle Bin option will appear for admins only: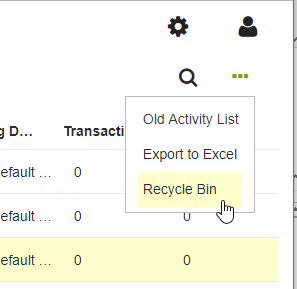 Settings access
You can now conveniently access the Pepperi Web Admin directly from the Managers App when signed in as an Admin user.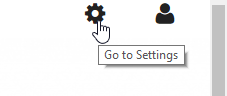 Cart and Catalog
Campaign items highlighted in cart
Any items that are part of a campaign will now appear highlighted in the cart. 

Notification detailing missing mandatory fields
The user is notified of exactly which fields are missing when the Order Details (header) form is submitted with missing mandatory fields.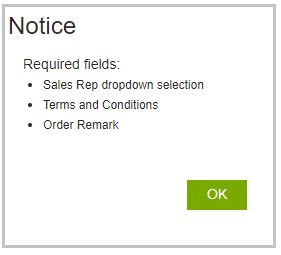 Zoom in on Items images
When clicking on an image to enlarge it, you can now use + / - to zoom in and out. Use the arrows to browse between multiple item images.