Custom Login Configuration Tool
Edit fields in Order Center, Banner, and Cart Footer
Package Promotion - Buy X get Cheapest for free
Package Promotion - get items up to X price
Item/Order Promotions - Permissions
Custom Login Configuration Tool
Configuring a custom login page with your own dedicated domain name for your B2B eCommerce web storefront can now be done using our new configuration tool.
The tool walks you through all the steps necessary to register your own domain, and load your own branding logo and images to the Pepperi login page.
For details see: Customize login page with your own branding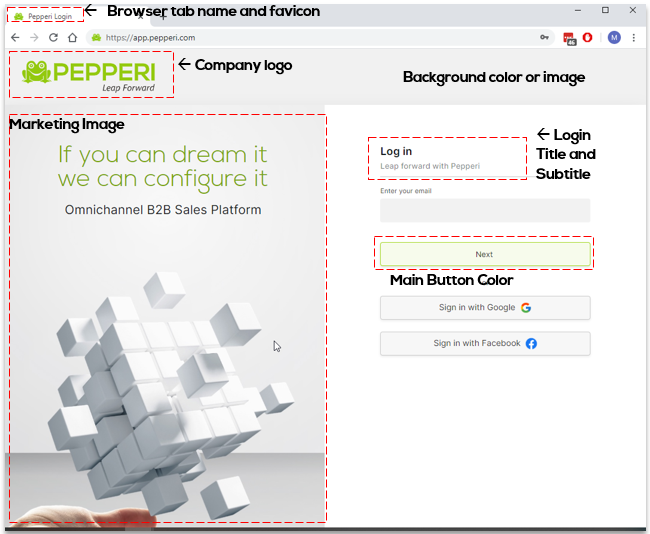 Edit fields in Order Center, Banner, and Cart Footer
Fields that are not marked as Read Only can now be edited in the Order Center, Banner, and in the Expanded Cart Footer.
The user no longer has to access the Cart to edit Line-item fields, such as Price, remarks, etc. or the Order Details Form to edit fields such as remarks, select a payment or shipping method. These fields can be edited directly from the Order Center and Cart.

Trade Promotion Enhancements
Package Promotion - Buy X get Cheapest for free
If 5 items are selected as follows:
ItemA - $12.50 QTY 2
ItemB - $13.75 QTY 1
ItemC - $14.50 QTY 2
The shopping cart will show:
1 ItemA x $12.50
1 ItemA x $0.00 (free cheapest item)
1 ItemB x $13.75
2 ItemC x $14.50
For details: Packages Trade Promotions Editor Guide
Package Promotion - get items up to X price
A new incentive allows you to give a monetary value of items for free.
For example: Buy 10 items from predefined list, and select $25 worth of the items for free from another predefined list.
For details on all Package/Item/Order Promotions and available incentives see: Trade Promotions
Item/Order Promotions - Permissions
In the Advanced setup of Item and Order Promotions you can select whether users should be able to see the details of all promotions or only the ones they have created.