The PDF copy of the order can be easily configured in the Transaction Type to include any Header and order table fields you require. You may also format the grouping and size of the list of items in the PDF. 
This article will show you how to group the items in the PDF by any of the columns in the cart, and how to decrease the item's image size so the PDF doesn't get to be too many pages long. 
Under Settings -> Transaction Types edit the Transaction Type you wish to configure the PDF for.
In the Views and Forms tab, open the "Cart" section.

Edit the Cart PDF View to configure the fields that will appear in the table of items in the PDF copy of the order.
Grouping items in the PDF
The Cart PDF view has a "Group by" option, allowing you to group the items presented in the order table by any one of the columns present in the layout. The quantities and amounts for each group are subtotaled in each group.

For example, you may want to group matrix items by their style code. This will create a title with the Style code, and all variants of the style ordered will be listed below. 
Or you may want to group the items by Brand (Main category). 
This grouping option is available for the Cart PDF configuration only.
Here is an example of a PDF order that is grouped by Brand, with quantities and amounts sub-totaled beneath each group: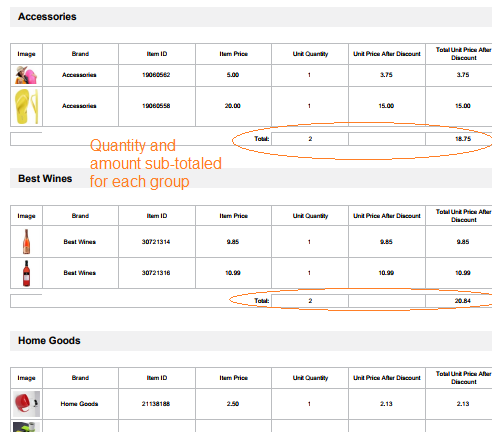 Decreasing the size of the item image in the PDF
An order with many items can add many pages to the PDF due to the large default image size. You may decrease the size of the item image on the PDF by reducing the width of the image column.
You may also adjust the width of the columns on the PDF (to a value between 10 - 200).
Set the width of the image column to be relatively smaller than all the other columns. For example, if the width of the image column is 10 (default) and the other columns are set to 30, the image size will decrease. 
You can play around with the values until you are satisfied with the results. To preview your changes, sync the Pepperi app on your device and view the PDF of any order in the shopping cart menu.
(Of course you may always remove the image from the PDF if it is not necessary).