When a Pepperi order is submitted the user can be directed to make an ePayment via your payment provider. The epayment workflow defined is launched from within Pepperi, allowing them to enter their payment details. Payment is processed in the payment gateway interface and the user is then returned to the app.
Epayment is supported on the Pepperi app, and requires connectivity for the payment to be processed via the provider.
You may define if payment is optional or required at the time the order is submitted.
Pepperi integrates with your payment provider, it sends the payment and retrieves any response returned and displays it in Pepperi as the order status (Paid, Needs Payment, Payment Pending).
The providers currently supported are PayPal, Authorize.net, and eWay (Australia).
If you are using another payment provider please contact us to inquire how you can integrate it to Pepperi.
Watch this quick 20 sec clip to see ePayment in action:
To configure ePayment for a Transaction Type you'll first need to configure the ePayment information and add a Payment action in the Workflow.
Configure ePayment information
Go to Settings -> Sales Activities -> Transaction Types
Edit the Transaction Type you would like to configure ePayment for.
Go to the ePayment tab to enter your details for the payment gateway you will be using.
Select an ePayment provider from the menu.
Mandatory Payment
Indicate if payment is mandatory and the user will be forced to make a payment after submitting an order.
Test mode
Allows you to use your sandbox merchant credentials to test receiving payments before you go live. Once you have completed testing deselect Test mode and enter your production merchant credentials.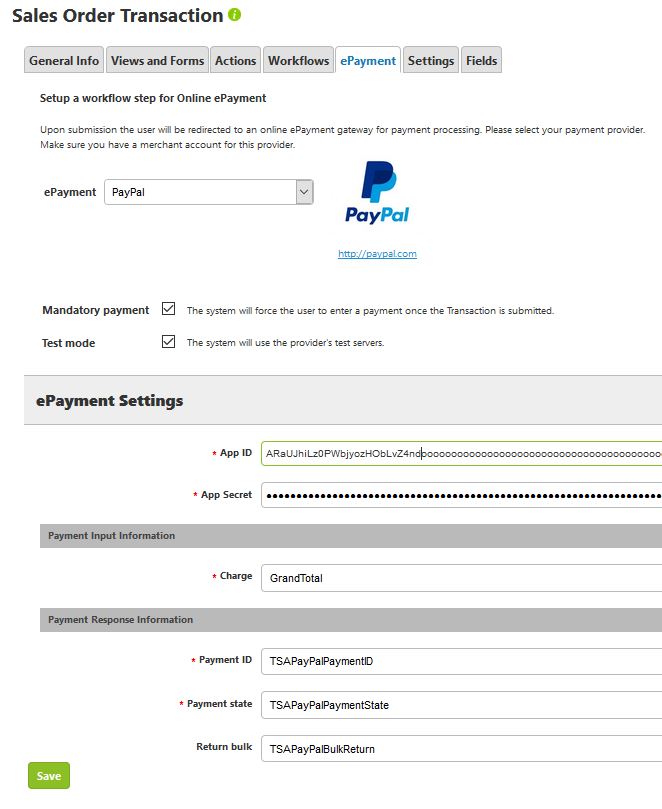 ePayment Settings
Fill in the fields that you provide to the payment provider such as "App ID" , "App Secret", or "API Key" for eWay.
Each provider has this pair of credentials that are unique to your account. They are used to authorize a secure connection between integrated business applications such as Pepperi to the provider.
How to get your PayPal configuration info needed for Pepperi
How to get your Authorize.net configuration information needed for Pepperi
Payment Input Information
Information that is sent to the payment provider once creating the payment, such as: amount to charge, customer name, etc.
Payment Response Information
There are fields that the payment provider will return to Pepperi containing the status, and other information related to the payment. 
You may capture these fields in Pepperi custom fields and display them on forms and reports.
In order to capture them, you must first create custom fields in the Data Customization tab of the Transaction for each of the payment response information fields.
The fields marked with a red star are mandatory to create. Those not marked with a star are optional.
For PayPal create: *Payment ID, *Payment State, Return Bulk
For eWay create: *Invoice Number, *Response Message, Response Code, Authorization Code, Return Bulk
For Authorize.Net create: *Authentication, *Response code, Response Reason code, Response Reason text, *Transaction ID, Return bulk
To create custom fields, go to the Data Customization tab and click on "Add Custom Field" (custom Transaction field, NOT custom line-item field).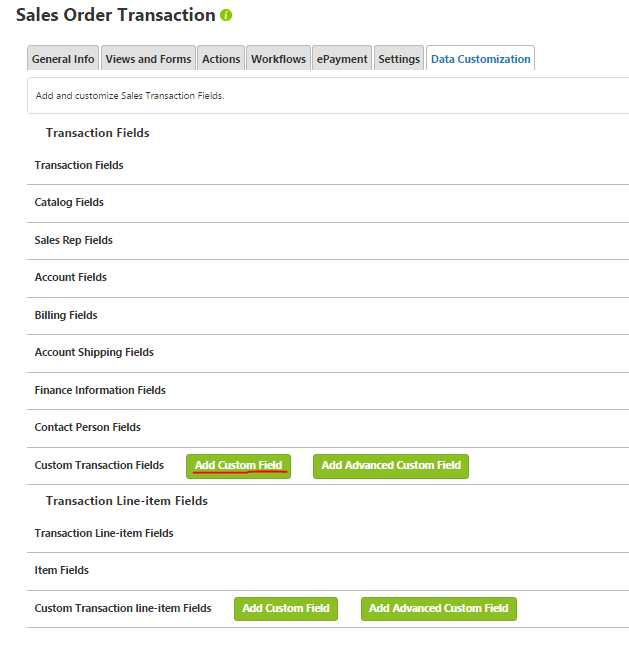 Create a new Single Line text custom field for the fields you require for your provider.
For example this is how you could name a field for the PayPal Payment ID that is returned from PayPal after a payment is made (the field name can be anything you want).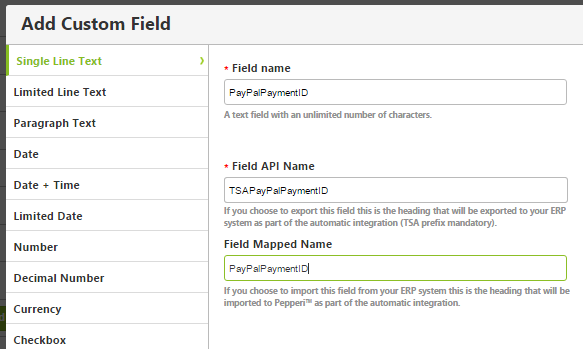 Once you created the fields they will be available for selection from the menu in the ePayment tab in the Payment Response Information section.
Add a Payment action in the Workflow
Edit the status transition in the Workflow you wish the Payment to be triggered and add the Payment action. For details on building Workflows and adding actions see: Workflows
Select the status the Transaction should get in case of payment failure - for example "In Payment". Make sure to add this status (In Payment) to your Workflow and add Email notification or any other actions you require in case this failed status is reached.