Once your Item List is uploaded you'll see the following screen (accessible from Items -> Manage Items -> Import/Export tab):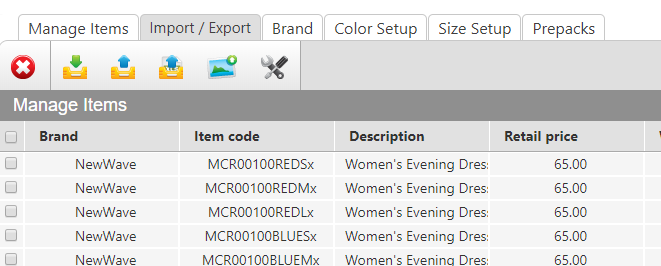 Click the Upload Images icon 

A new tab will be opened in your browser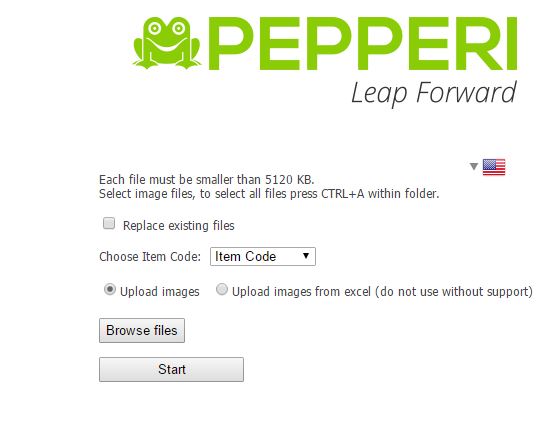 In order to associate the correct items and images, the image file names must exactly match the Item Code, the Display Code, or the UPC. Take a look at the examples below.
Item Code

Display Code

UPC

Image File Name

200

200_a

6183746596

200.jpg OR

200_a.jpg OR

6183746596.jpg

201

201_a

3848503820

201.jpg OR

201_a.jpg OR

3848503820.jpg

202

202_a

0783472648

202.jpg OR

202_a.jpg OR

0783472648.jpg
Use the dropdown menu to select the name that will match the image file name
Click Browse Files to browse the images on your computer
Select the appropriate files and click Start
Each individual image can be up to 5 MB. Very large image files can take a long time to upload, so you may want to begin by creating a folder of just a few images – say, 10 to 20 – to upload now. You can add the rest later.
When you finish uploading your images, close the tab to return to the main window.
* If you have already uploaded some images and you want to see which items do NOT have images, follow the instructions in this article: How To See which Items do not have Images
* To Upload additional images for each item (up to 5) see the article: Uploading Multiple Images