NOTE: Main Category Discounts have been disabled in the new back office settings in app.pepperi.com
If you need to continue using Main Category Discounts please contact Pepperi support to enable the legacy version, or move to the new Trade Promotions Module. Trade Promotions include a much more flexible and powerful tool for providing discounts across Accounts/Brands and much more.
To upload Main Category discount per Account (or Brand discounts - if you are using Brand names as your Main Category):
Create a csv file with the following columns (make sure the column headings are identical to the headings shown here):
| | | | |
| --- | --- | --- | --- |
| BrandID | LocationOrganizationID | LocationOrganizationType | Prop_BrandDiscountPercentage |
| Access Brand | 510 | Store | 25 |
| Fashion Brand | 511 | Store | 10 |
BrandID - the exact name of the Brand or Main Category that is discounted
LocationOrganizationID - the ERP code of the Account that will benefit from this discount
LocationOrganizationType - should be set to Store for all rows
Prop_BrandDiscountPercentage - the percentage discount the Account will receive for the Main Category/Brand (whole number, no decimals, no percentage symbol).
Go to Settings - > ERP Integration -> Click Upload
Select Store Portfolio from the data type menu: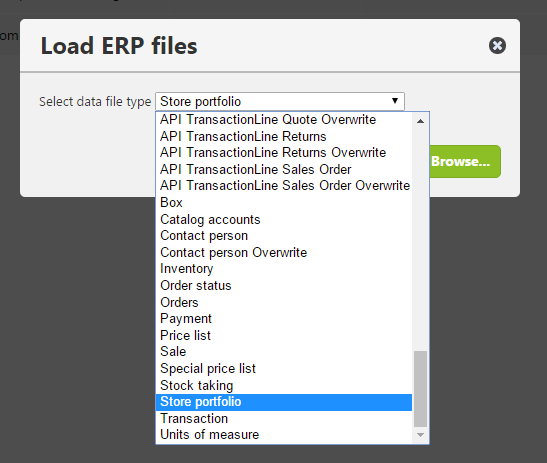 Browse to the CSV file you created and select it. It will be uploaded.
The discounts will be loaded into the system and you may view them in the Main Category Discount tab in the Settings -> Pricing Policy -> Main Category Discount section.
They will be applied accordingly in the cart when the sales rep places an order.
Discounts may be manually modified on the Main category discount tab as well.