You can search, view, edit and export your activities in the Activity Lists. Click on the Activity List button on the home screen. 
Note: the button label may be different, it may be called "Order History", "My Order", etc.

Choose a list to view. Lists are grouped by type of Order, for ex: Drafts, Invoices, All transactions, Contact Us forms, etc..

Click on the Activity Number to view its details 
Modify the From/To dates to see orders for any range you require.
To continue working on a draft order, simply click on it and you'll be brought into the cart of the order. Edit the cart, or click continue ordering to go back to the catalog, and then submit the order as usual.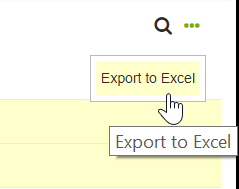 Export the Order List
You can export the order list for the date range you have selected to Excel.
Search for an Order
You can search for an order within the date range by the Order ID number.