If you have a need to sell your items in decimal quantities for example:
15.5 kg of cheese, 12.4 meters of rope, or 18.2 Liters of soap
your reps can enter decimal quantities in the catalog on Pepperi.
This article will explain the steps required to allow decimal quantities:
Enable the AllowDecimal Item field

Export your items file and save it as CSV

Re-import your items
Enable the AllowDecimal Item field
Go to Settings - > Items - > Fields
Here are you presented with all the mapped fields you loaded for your items.

In the General Transaction Fields section click the "+" symbol next to the AllowDecimal field in order to activate it.
Click the edit (pencil icon) and enter the name "AllowDecimal" in the Field Mapped Name.
Click Save.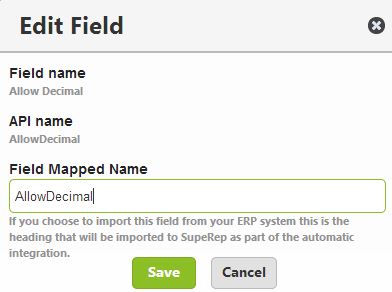 Export your items file and save it as CSV
Go to Items -> Manage Items -> Import Export tab
Click the export button

  to export your existing Items (Inventory) file.
The file will be downloaded as an Excel file.
Open it and you should have a column at the end titled "AllowDecimal" with values of 0 (zero) for all the items - meaning decimal not allowed.
Do not modify the heading of this column!
Modify the value to 1 for the items you wish to enable decimal quantities for.
Save the file as CSV (comma delimited)
Re-import your items

Go to Settings -> ERP Integration -> Upload Data
Select "Inventory" from the menu of options.
Browse to the CSV file you saved in the previous step.
The file should load with no errors.
(In case of errors, view the log file under ERP Integration -> Log)
You can now synchronize Pepperi on your tablet and you will be able to add decimal values for the items you indicated a value of "1".
IMPORTANT: If you will upload your items file again as an Excel file via the graphical mapping method, DO NOT MAP the AllowDecimal field!! It will cancel out what you did previously. In the mapping process select "Choose Value" for the column named Allow Decimal and this will prevent it from being mapped.