All views and forms can be configured for the Storefront Transaction, such as: catalog views, menus, cart views, cart header, and catalog banner.
Detailed explanations of each view and form configuration may be found here: Views Configuration
IMPORTANT - If you are using Matrix Items: (variants of styles) to ensure that Matrix item ordering is enabled - you must add the Matrix control to the Item Information Page Portrait view.
Configure the Order Center Views -> Item Information Page Portrait in the Transaction type you are using for buyers on the B2B Storefront site to include the Matrix control (in the Special Data Controls fields section). Stretch the Matrix control over several rows to make sure it is long enough to contain all the variants without too much scrolling.

More Matrix-related views:
Additional Fields for Matrix View
Configurations in Views and Forms that are especially relevant to the Storefront include:
Transaction Details -> Order Banner
Add a banner, containing informative fields, or images across the top of the Order Center emphasizing special offers and products.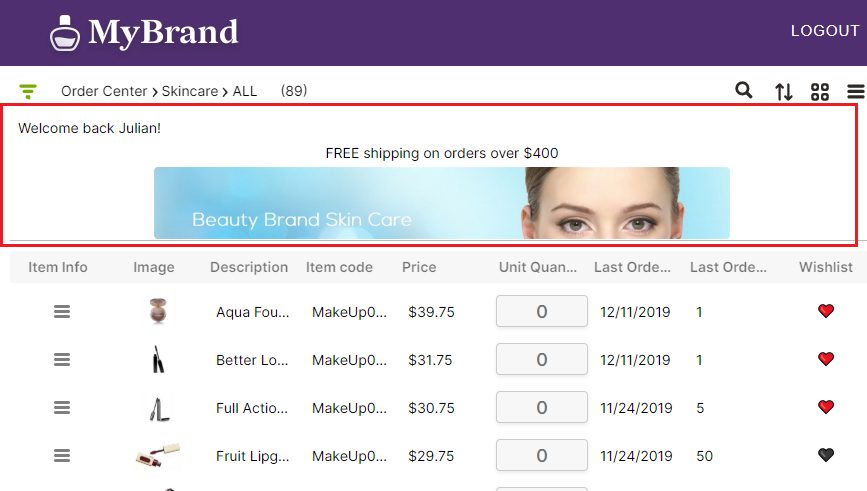 Menus - > Order Center Views Menu (including setting the default view)
Define which Order Center Views are available to buyers (including the default view when the Order Center opens).
Cart -> Cart Grid View / Lines View
Define the information displayed in the Cart Views
Footer -> Expanded Cart Footer View
Include general Account information such as name, shipping address, email, tax, etc. in the top area of the shopping cart so buyers don't have to access the Order Details form through the menu to view this information. (On mobile devices this information is shown in the expanded footer, on the Web app it's actually at the top of the page in the header area.)