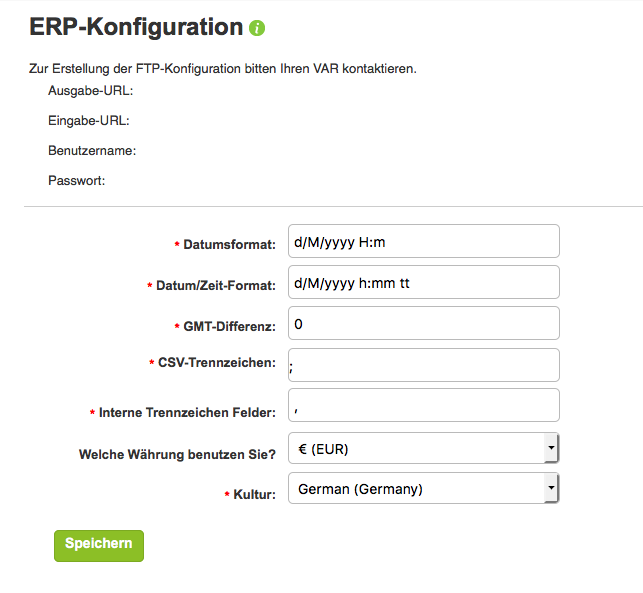 Datumsformat, Datums-/Uhrzeitformate: sehen Sie die untere Tabelle
GMT-Differenz: stellt die GMT-Abweichung ein.
Die GMT-Differenz bestimmt die Zeit, die im Benutzerinterface angezeigt wird. Falls das Feld ausgelassen wird, wird GMT in allen Benutzeroberflächen angezeigt.
CSV-Trennzeichen: Bestimmt das Trennzeiche, das in allen Dateien benutzt wird, die Sie übermitteln.
Interne Trennzeichen Felder: Zusätzliches Trennzeichensymbol, das in den Feldern Ihrer CSV-Datei benutzt wird.
Währung: Bestimmt Ihre Standardwährung
Kultureinstellungen werden angezeig. Die Kultureinstellungen beeinflussen zwei Dinge:
Gleitkommaformat ( z.B.: en-US 123.45 fr-FR: 123,45 )
Non-UTF8 format setting for letters in the language with special characters
Die angezeigten Standard-Kultureinstellungen sind meistens korrekt. Sie müssen die Einstellungen jedoch bestätigen, wenn Sie die erste automatische ERP-Integration durchführen.
Datumsformat, Datums-/Uhrzeitformate Dieses stellt das Format ein, in dem Ihre Daten und Uhrzeiten in den Daten, die Sie ümermitteln, angezeigt werden.This sets the format in which your dates and times are listed in the files you transfer. See the following table for the correct specifiers to use:
Format specifier

Beschreibung

Beispiele

"d"

The day of the month, from 1 through 31.

More information: The "d" Custom Format Specifier.

2009-06-01T13:45:30 -> 1

2009-06-15T13:45:30 -> 15

"dd"

The day of the month, from 01 through 31.

More information: The "dd" Custom Format Specifier.

2009-06-01T13:45:30 -> 01

2009-06-15T13:45:30 -> 15

"ddd"

The abbreviated name of the day of the week.

More information: The "ddd" Custom Format Specifier.

2009-06-15T13:45:30 -> Mon (en-US)

2009-06-15T13:45:30 -> Пн (ru-RU)

2009-06-15T13:45:30 -> lun. (fr-FR)

"dddd"

The full name of the day of the week.

More information: The "dddd" Custom Format Specifier.

2009-06-15T13:45:30 -> Monday (en-US)

2009-06-15T13:45:30 -> понедельник (ru-RU)

2009-06-15T13:45:30 -> lundi (fr-FR)

"f"

The tenths of a second in a date and time value.

More information: The "f" Custom Format Specifier.

2009-06-15T13:45:30.6170000 -> 6

2009-06-15T13:45:30.05 -> 0

"ff"

The hundredths of a second in a date and time value.

More information: The "ff" Custom Format Specifier.

2009-06-15T13:45:30.6170000 -> 61

2009-06-15T13:45:30.0500000 -> 00

"fff"

The milliseconds in a date and time value.

More information: The "fff" Custom Format Specifier.

6/15/2009 13:45:30.617 -> 617

6/15/2009 13:45:30.0005 -> 000

"ffff"

The ten thousandths of a second in a date and time value.

More information: The "ffff" Custom Format Specifier.

2009-06-15T13:45:30.6175000 -> 6175

2009-06-15T13:45:30.0000500 -> 0000

"fffff"

The hundred thousandths of a second in a date and time value.

More information: The "fffff" Custom Format Specifier.

2009-06-15T13:45:30.6175400 -> 61754

6/15/2009 13:45:30.000005 -> 00000

"ffffff"

The millionths of a second in a date and time value.

More information: The "ffffff" Custom Format Specifier.

2009-06-15T13:45:30.6175420 -> 617542

2009-06-15T13:45:30.0000005 -> 000000

"fffffff"

The ten millionths of a second in a date and time value.

More information: The "fffffff" Custom Format Specifier.

2009-06-15T13:45:30.6175425 -> 6175425

2009-06-15T13:45:30.0001150 -> 0001150

"F"

If non-zero, the tenths of a second in a date and time value.

More information: The "F" Custom Format Specifier.

2009-06-15T13:45:30.6170000 -> 6

2009-06-15T13:45:30.0500000 -> (no output)

"FF"

If non-zero, the hundredths of a second in a date and time value.

More information: The "FF" Custom Format Specifier.

2009-06-15T13:45:30.6170000 -> 61

2009-06-15T13:45:30.0050000 -> (no output)

"FFF"

If non-zero, the milliseconds in a date and time value.

More information: The "FFF" Custom Format Specifier.

2009-06-15T13:45:30.6170000 -> 617

2009-06-15T13:45:30.0005000 -> (no output)

"FFFF"

If non-zero, the ten thousandths of a second in a date and time value.

More information: The "FFFF" Custom Format Specifier.

2009-06-15T13:45:30.5275000 -> 5275

2009-06-15T13:45:30.0000500 -> (no output)

"FFFFF"

If non-zero, the hundred thousandths of a second in a date and time value.

More information: The "FFFFF" Custom Format Specifier.

2009-06-15T13:45:30.6175400 -> 61754

2009-06-15T13:45:30.0000050 -> (no output)

"FFFFFF"

If non-zero, the millionths of a second in a date and time value.

More information: The "FFFFFF" Custom Format Specifier.

2009-06-15T13:45:30.6175420 -> 617542

2009-06-15T13:45:30.0000005 -> (no output)

"FFFFFFF"

If non-zero, the ten millionths of a second in a date and time value.

More information: The "FFFFFFF" Custom Format Specifier.

2009-06-15T13:45:30.6175425 -> 6175425

2009-06-15T13:45:30.0001150 -> 000115

"g", "gg"

The period or era.

More information: The "g" or "gg" Custom Format Specifier.

2009-06-15T13:45:30.6170000 -> A.D.

"h"

The hour, using a 12-hour clock from 1 to 12.

More information: The "h" Custom Format Specifier.

2009-06-15T01:45:30 -> 1

2009-06-15T13:45:30 -> 1

"hh"

The hour, using a 12-hour clock from 01 to 12.

More information: The "hh" Custom Format Specifier.

2009-06-15T01:45:30 -> 01

2009-06-15T13:45:30 -> 01

"H"

The hour, using a 24-hour clock from 0 to 23.

More information: The "H" Custom Format Specifier.

2009-06-15T01:45:30 -> 1

2009-06-15T13:45:30 -> 13

"HH"

The hour, using a 24-hour clock from 00 to 23.

More information: The "HH" Custom Format Specifier.

2009-06-15T01:45:30 -> 01

2009-06-15T13:45:30 -> 13

"K"

Time zone information.

More information: The "K" Custom Format Specifier.

With DateTime values:

2009-06-15T13:45:30, Kind Unspecified ->

2009-06-15T13:45:30, Kind Utc -> Z

2009-06-15T13:45:30, Kind Local -> -07:00 (depends on local computer settings)

With DateTimeOffset values:

2009-06-15T01:45:30-07:00 --> -07:00

2009-06-15T08:45:30+00:00 --> +00:00

"m"

The minute, from 0 through 59.

More information: The "m" Custom Format Specifier.

2009-06-15T01:09:30 -> 9

2009-06-15T13:29:30 -> 29

"mm"

The minute, from 00 through 59.

More information: The "mm" Custom Format Specifier.

2009-06-15T01:09:30 -> 09

2009-06-15T01:45:30 -> 45

"M"

The month, from 1 through 12.

More information: The "M" Custom Format Specifier.

2009-06-15T13:45:30 -> 6

"MM"

The month, from 01 through 12.

More information: The "MM" Custom Format Specifier.

2009-06-15T13:45:30 -> 06

"MMM"

The abbreviated name of the month.

More information: The "MMM" Custom Format Specifier.

2009-06-15T13:45:30 -> Jun (en-US)

2009-06-15T13:45:30 -> juin (fr-FR)

2009-06-15T13:45:30 -> Jun (zu-ZA)

"MMMM"

The full name of the month.

More information: The "MMMM" Custom Format Specifier.

2009-06-15T13:45:30 -> June (en-US)

2009-06-15T13:45:30 -> juni (da-DK)

2009-06-15T13:45:30 -> uJuni (zu-ZA)

"s"

The second, from 0 through 59.

More information: The "s" Custom Format Specifier.

2009-06-15T13:45:09 -> 9

"ss"

The second, from 00 through 59.

More information: The "ss" Custom Format Specifier.

2009-06-15T13:45:09 -> 09

"t"

The first character of the AM/PM designator.

More information: The "t" Custom Format Specifier.

2009-06-15T13:45:30 -> P (en-US)

2009-06-15T13:45:30 -> 午 (ja-JP)

2009-06-15T13:45:30 -> (fr-FR)

"tt"

The AM/PM designator.

More information: The "tt" Custom Format Specifier.

2009-06-15T13:45:30 -> PM (en-US)

2009-06-15T13:45:30 -> 午後 (ja-JP)

2009-06-15T13:45:30 -> (fr-FR)

"y"

The year, from 0 to 99.

More information: The "y" Custom Format Specifier.

0001-01-01T00:00:00 -> 1

0900-01-01T00:00:00 -> 0

1900-01-01T00:00:00 -> 0

2009-06-15T13:45:30 -> 9

2019-06-15T13:45:30 -> 19

"yy"

The year, from 00 to 99.

More information: The "yy" Custom Format Specifier.

0001-01-01T00:00:00 -> 01

0900-01-01T00:00:00 -> 00

1900-01-01T00:00:00 -> 00

2019-06-15T13:45:30 -> 19

"yyy"

The year, with a minimum of three digits.

More information: The "yyy" Custom Format Specifier.

0001-01-01T00:00:00 -> 001

0900-01-01T00:00:00 -> 900

1900-01-01T00:00:00 -> 1900

2009-06-15T13:45:30 -> 2009

"yyyy"

The year as a four-digit number.

More information: The "yyyy" Custom Format Specifier.

0001-01-01T00:00:00 -> 0001

0900-01-01T00:00:00 -> 0900

1900-01-01T00:00:00 -> 1900

2009-06-15T13:45:30 -> 2009

"yyyyy"

The year as a five-digit number.

More information: The "yyyyy" Custom Format Specifier.

0001-01-01T00:00:00 -> 00001

2009-06-15T13:45:30 -> 02009

"z"

Hours offset from UTC, with no leading zeros.

More information: The "z" Custom Format Specifier.

2009-06-15T13:45:30-07:00 -> -7

"zz"

Hours offset from UTC, with a leading zero for a single-digit value.

More information: The "zz" Custom Format Specifier.

2009-06-15T13:45:30-07:00 -> -07

"zzz"

Hours and minutes offset from UTC.

More information: The "zzz" Custom Format Specifier.

2009-06-15T13:45:30-07:00 -> -07:00

":"

The time separator.

More information: The ":" Custom Format Specifier.

2009-06-15T13:45:30 -> : (en-US)

2009-06-15T13:45:30 -> . (it-IT)

2009-06-15T13:45:30 -> : (ja-JP)

"/"

The date separator.

More Information: The "/" Custom Format Specifier.

2009-06-15T13:45:30 -> / (en-US)

2009-06-15T13:45:30 -> - (ar-DZ)

2009-06-15T13:45:30 -> . (tr-TR)