Creating multiple Account Types allows you to:
1. Assign Transactions and Activities to specific Account Types, for example, allow merchandising activities for stores only, not warehouses or vans. This means that even if a certain Transaction or Activity is positioned on the Account Dashboard layout for a user profile, it will not appear if it is not assigned to this Transaction/Activity by Account Type.
2. Assign certain Account types to as sources of inventory, and others as destinations of inventory in a Transaction. This allows you to track inventory across multiple warehouses or vans.
Note: Account Types are typically part of the Ultimate Plan package, if you don't have this feature activated, please contact your Pepperi sales rep or support.
For example, when creating a Sales Order Transaction where items are sold out of a van, define the source of inventory as type "Van" Account type and the destination type "Customer" Account type. Or if you are creating an End of Day Transaction, where you are moving your leftover inventory from your van to a warehouse, define the source of the inventory as type "Van" and the destination type "Warehouse".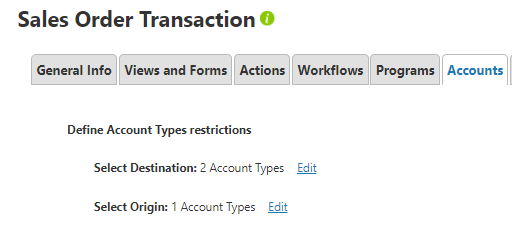 To create Account types you need to load them in separate CSV files grouped by type names, or alternatively load them in one file with a header "Type" and indicate the type in this column.
For example, to create 3 Account types:
Customer (default)

Van

Warehouse
Upload 3 Accounts CSV files with the type in the file name.
API_Account_Customer_Distributor_xxxxx.csv
API_Account_Van_Distributor_xxxxx.csv
API_Account_ Warehouse _Distributor_xxxxx.csv
(Where xxxxx represents your distributor ID, as in uploading any data file to Pepperi - How to find my Organization ID number)
Detailed format and instructions for the headers in API_Account csv files can be found here: Upload data to Pepperi via FTP using csv files
You can upload just one Accounts CSV file - API_Account_Distributor_xxxxx.csv - with the header "Type". If you don't indicate a value for Type, that Account will be associated with the default type "Customer".
Once you upload the files, all of the Account Types created will be listed under Settings -> Accounts -> Account Types, where you can then edit the layout of the form displaying the Account details for each type, as well as create a Workflow for each Account type.
Workflows for Accounts allow you to trigger actions when new Accounts are created, or existing Accounts change status.

Click Edit on the Account Type you wish to configure the form layout for viewing the detailed information in the fields of the Account.
Edit the form for each user profile required. Make sure to include all the fields the user will need to view and possibly edit. Also mark as "Mandatory" any required fields when creating a new Account of this type.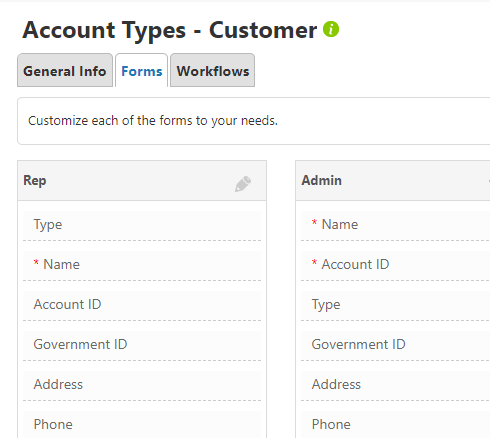 If you don't create a Workflow for the Account type, the user won't be able to add a new Account of this type (the + sign will not appear on the app in the top right corner of the Accounts list). 
To create a Workflow, add steps of transitions and actions. For more information on Workflows and available actions see: Workflow Designer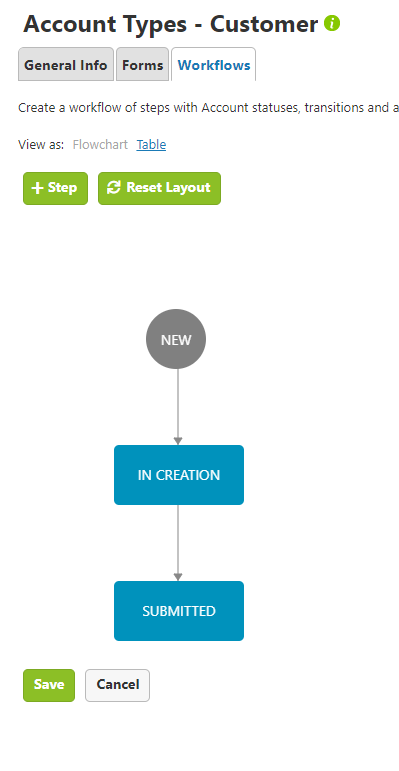 * If you want to edit account types in the apps the workflow should have a
'Submit --> Submit' step in the workflow.
Next, add the Account Types to Account Lists that will be used by the user profiles in your organization.
For details on adding Account Types to Account, Lists see: Account Lists.