In order to get the current Pepperi beta version on your Android device, you'll need to opt in.
Open the Pepperi app page on Google Play on your device (tablet or phone).
Scroll to the Join the Beta section and tap "Join".
It will take a few minutes until you are added. Once you are added the "Update" option will appear under the app name.
Tap "Update" and you will now be on the Beta version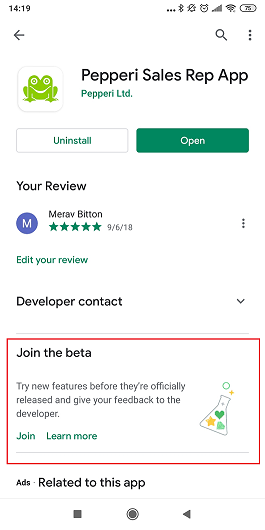 If you wish to leave the beta program and resume using the current version of the app, make sure Pepperi is closed on your device and scroll to the bottom of the app page in Google Play and tap "Leave". Uninstall and then reinstall Pepperi and you'll be back on the current (non-beta) version. For more information see: Google's Beta Testing Program.