Pepperi's iPaaS (Integration Platform as a Service) has an Advanced Image Uploader connecter that supports automated and fast bulk uploading of item images. Modified images will be updated automatically. Pepperi checks the modification date of the image files in the folder, and will overwrite any older images with updated ones.
This connector is a "Level A" connector that can be used with the "Pro" level plan. Consult your Pepperi sales representative to find out if this connector is included in your plan.
Up to 10,000 images can be automatically uploaded in bulk from an FTP or SFTP folder (FTPS not supported). Image size limited to 5MB.
Associate images to items by any item field (including custom fields)
Typically images are associated with items by the Item's unique code – item code 5678RL's image file will be named 5678RL.jpg
Need to associate images with items by their type, category, or brand?
You can choose which field is used for this association.
For example:
Load the same image for multiple items – if you require the same image for many small items that don't differ that much visually from each other:
All fasteners or screws smaller than 2" have the same image
All light bulbs of group A have the same image
No more items with no images!
Don't have all your items photographed? Load a default image by brand or other property.
For example:
Load all the specific images you do have for photographed items and then run an automatic task that sets a default image of the brand icon or other symbol for items that are missing an image.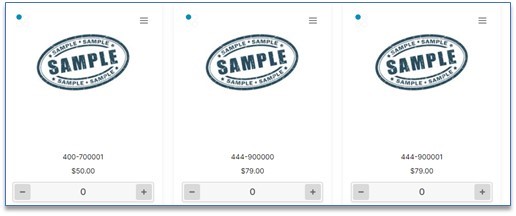 Multiple images per item, variant images
To upload up to 6 images for the same item the image file naming convention is the identifier you choose - for example Item Code, UPC, or any other Item property - then a delimiter of your choosing, and the digits 1 – 5 .
If you are associating images by Item Code, and the code is 22568, the first image file will be named 22568.jpg
You may choose the delimiter that is convenient for you, such as underscore, dash, or any other.
For example, if you chose "_" as the delimiter, the 5 additional images will be named
22568_1.jpg
22568_2.jpg
22568_3.jpg
22568_4.jpg
22568_5.jpg
If you are associating images by Item name, for item "Russell Shades", the first image file will be RussellShades.jpg, and the 5 additional will be the same with the chosen delimiter with the digits 1-5.
For matrix items load a specific image for each variant (by the variant's unique item code), plus a general image for the Style code
Load color "swatches"

Load color specific images of an eyewear frame

Load color specific images of a dress in blue, red, white and black