Retain your organization's Pepperi data for as long (or short) as it is needed, archiving old Transactions, Activities, and Transaction Lines based on the number of months back you wish to keep.
An efficient retention policy will improve performance platform-wide.
The Data Retention Add-on allows you to easily set a data retention policy through a graphical user interface:
Define a default setting for months and minimum activities to retain, and specific retention policies for each activity type.
Schedule the day and time for the data retention process
Publish your changes
Note: If you update an Activity or Transaction that has already been archived, it will be un-archived, and it will be retained according to your retention policy, by the modification date.
This add-on is part of the Pepperi Ultimate Tier. To activate this add-on contact Pepperi Customer Success.
Example Data Retention Policy:
Default Data Retention of 36 months - will retain 36 months back of all Activities and Sales Transactions at all times.
For more/less data retention for specific types of Activities, add a definition for specific activity types. For example:
Returns - retain 12 months

Quotes - retain 12 months

Visit Activities - retain 6 months

Minimum Visit records to retain - 25. This means if the number of Visit Activities from the past 6 months are less than 25, additional records from previous months will be retained to reach 25 records.
To set up the Data Retention Policy log into app.pepperi.com as Admin
Go to Settings -> Data Retention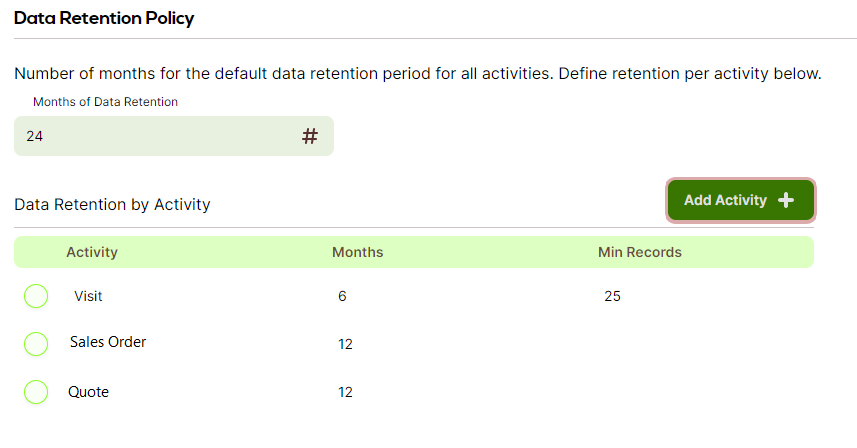 Schedule
Schedule the data retention process during low business activity.
Choose a day and time.

Publish

Click Publish to save your changes.