Access to the relevant Pepperi Add-ons can be assigned per profile.
For example:
Assign the Theme Editor access to the Marketing Manager, so they can configure the branding colors, fonts and styles for the B2B eCommerce store's look and feel.
Allow managers or marketing departments to set up Trade Promotions
To set permissions, login to the web app https://app.pepperi.com as an admin user.
Make sure you have the relevant profiles created and assigned to your users.
Go to Settings -> Configuration -> Addon Manager
Go to the Permissions tab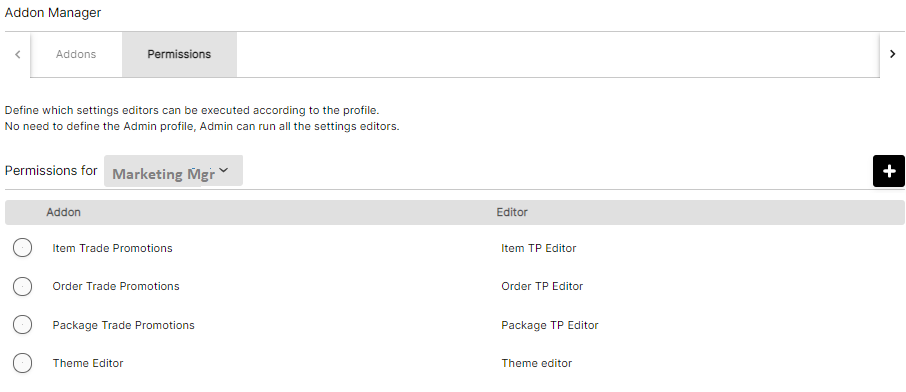 Select a profile to set permissions for from the menu.
Click Add permission +
Select the Addon and the editor within the addon to grant permission for.
Selecting the editor within the addon allows you to grant access for setting up promotions, but not creating promotion types, or installing the promotion setup on another sales transaction.
Typically you will want to choose the Item TP Editor only, and set the types and setup yourself as an admin.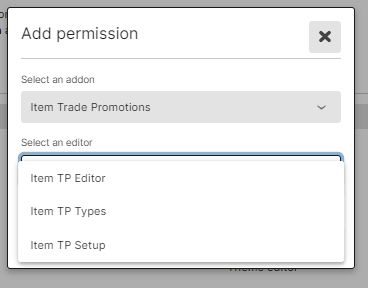 Once you have added all the permissions you require, you will need to create shortcut links to the addons and position them on the homescreen of the profile you added the permissions for.
Create a shortcut button to the editor for the user who will be configuring the trade promotions (marketing manager, sales manager etc.)