Sometimes buyers find it more convenient to work with Excel, for larger orders, or orders they are accustomed to manipulating with Excel as a convenient tool.
Buyers and other user profiles can upload an Excel file with their item codes as an order straight into Pepperi. The mapping will be handled automatically by Pepperi.
Pepperi has an add-on that allows order upload via Excel at the click of a button. To purchase the add-on contact customer success.
Please note that Trade Promotions are not supported when uploading orders via Excel. Trade promotions run via the Rule Engine, they can't be triggered by a file upload integration such as the Excel import functionality.
Upload the Excel file, confirm the mapping, and the items will automatically be added to your Pepperi shopping cart, where you can submit the order. All the Pepperi workflows for the transaction will work as usual.
Here's a quick demo (more details below):
This functionality is part of your Transaction Workflow. It will be displayed to the user as a button in the shopping cart, or as a menu option in the shopping cart.

The data uploaded is simple, it requires an Excel file with two columns: Quantity and Item Code.
The Item Code is the same unique Item code (External ID field) used for items in Pepperi. You'll need to make sure that this is the item code that is recognised by your customers.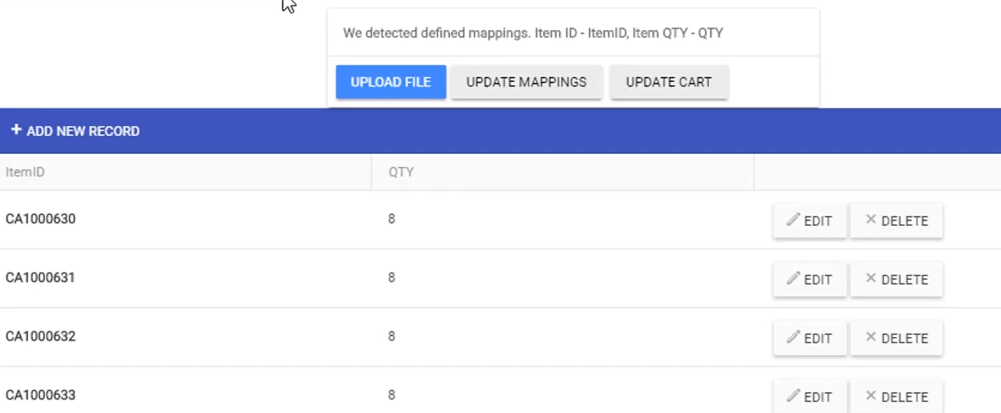 There are two options for uploading the file to the Pepperi shopping cart:
1. Provide a downloadable template to your users, which they fill in, save and upload.
2. Allow users to upload their own Excel file, and indicate the Quantity and Item Code columns with a simple mapping selection.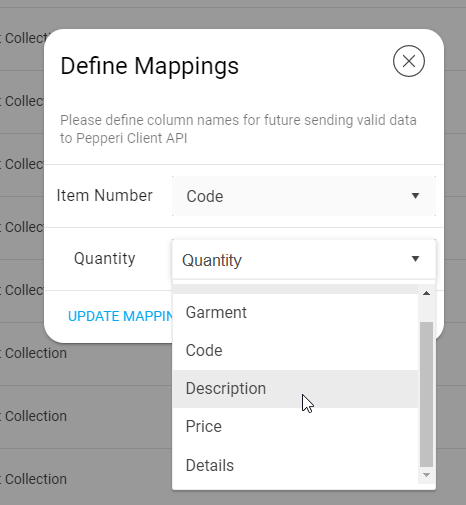 This add-on uses Pepperi's Integration Platform for automatic integration of Pepperi activities and data to your ERP. If you are not currently using the Integration Platform, there may be an extra charge to activate it on your account.