Pepperi provides online global technical support by email for all customers.
Support is provided 24/6 in a follow the sun model.
You can open support tickets, and later log in to view their status, as well as your history of tickets.
To open a support ticket go to https://support.pepperi.com and click Submit Ticket

Fill in the ticket form
Use your Pepperi username email address. This will allow you to track the tickets later in the "My Activities" section in Zendesk. Each user can later view the ticket status and history of the tickets opened under each Pepperi username. If you use the same Pepperi username email for all your tickets, you'll be able to see them all in one place when viewing the history.
Most importantly, be as detailed as possible in the description.
Explain exactly what behavior you are expecting to see, and what you are seeing instead
Indicate the device type (iOS/Android/web) and username you are logging in as when you see the unexpected or non-functional behavior
If relevant, attach a screenshot from your computer or mobile device that illustrates the problem (from the Pepperi back office and/or mobile app)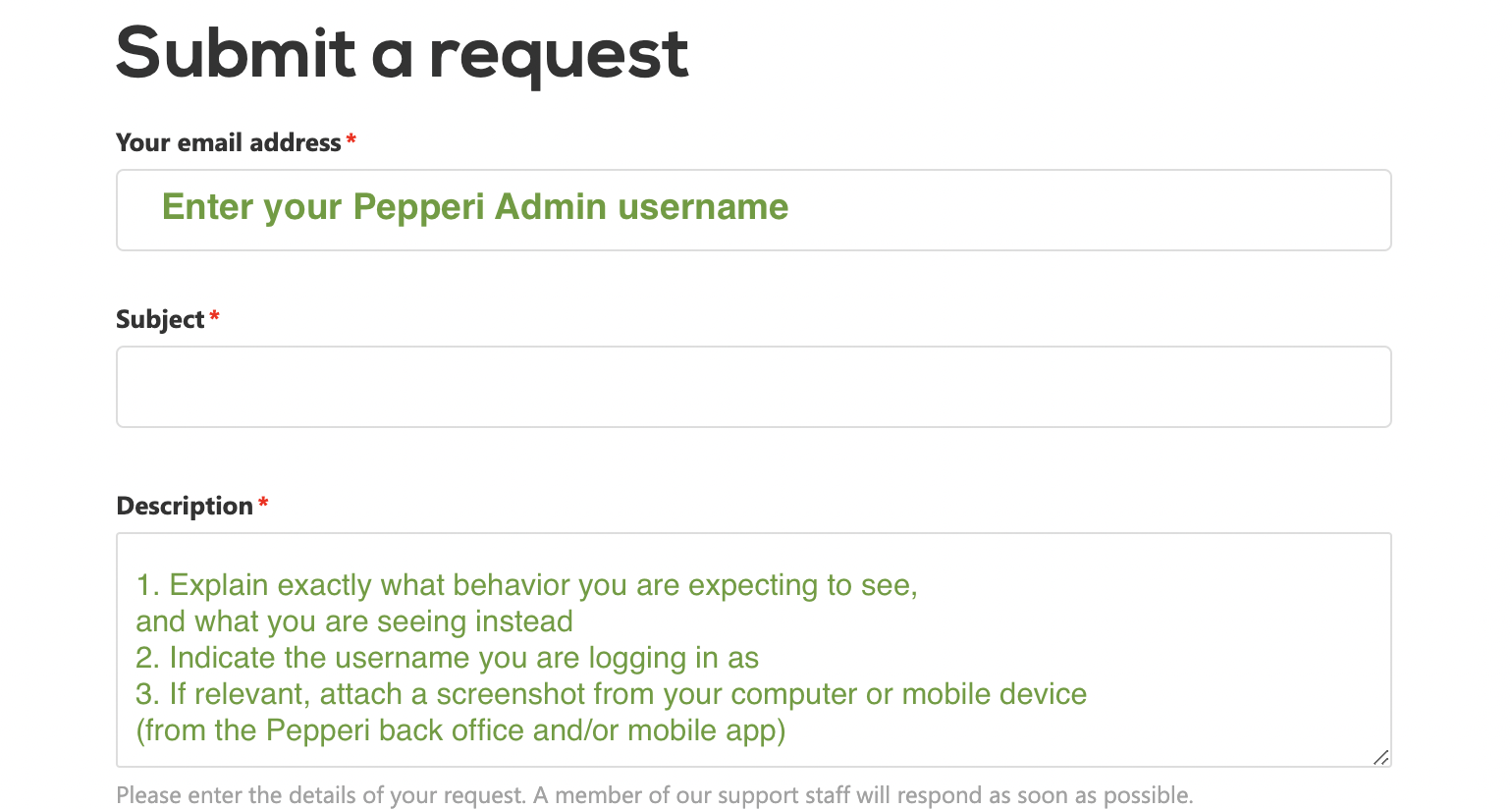 Optional: enter the ID for this ticket from your company's ticketing system, if you are interested in tracking Pepperi tickets by your company's help desk ticket number.

Select a Priority

Indicate the platform you are opening the ticket about.

Include attachments, such as screenshots or logs.

After submitting the ticket you'll get a confirmation email with a ticket number.
View ticket status and history
Go to https://support.pepperi.com and click Sign In
You will be redirected to a Pepperi login page. Log in using the same email address you used to submit the ticket.
After connecting click on your name in the top right corner and select "My Activities".
You'll see the status and history of all the tickets submitted under this username. (If you want to be able to see all the tickets under the same username, then make sure to use that username when submitting the tickets).