Sales Reps and other mobile users such as drivers or merchandisers, can make the most of their day by planning and optimizing their schedule.
Pepperi's Route and Activity Planning module allows Reps to plan their route and schedule appointments for customers they wish to visit in a calendar view in the app. The appointments are placed on a map view with a sequenced route the Rep follows.
Managers view their team's schedule in Activity Reports on the Pepperi Web App, and see which activities were scheduled as well as completed.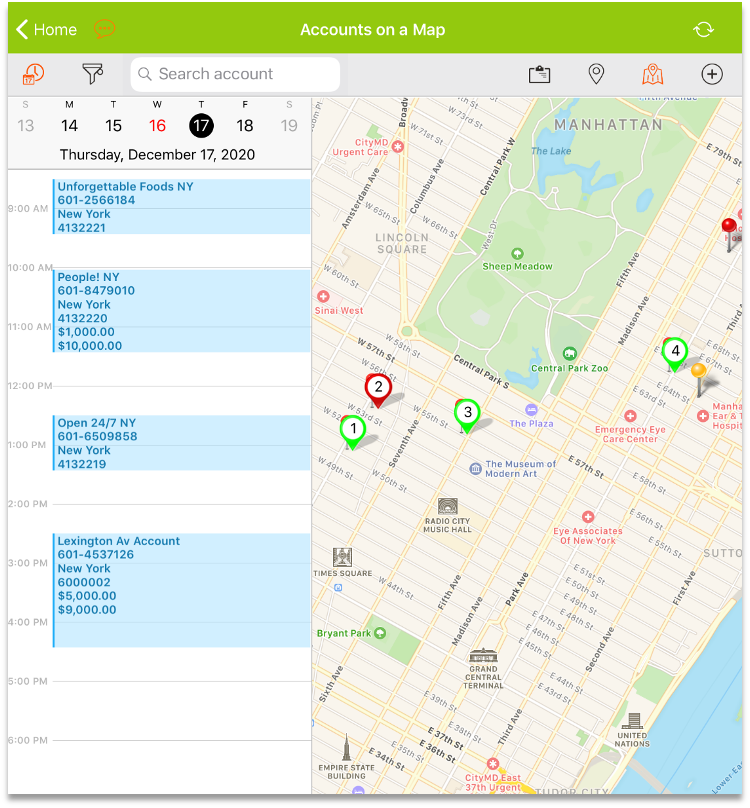 To prioritize their schedule, Reps can filter the Accounts they wish to visit, by:
Size – Small / Large

Type – Chain vs Mom n' Pop

Last visited – schedule visits for Accounts not visited in the past 30 days

Debt – visit Accounts to make collections or review contracts

Any custom field
Reps easily schedule any type of task or order Activity to execute at an Account.
Tap on the Account and add a new planned Activity

Enter the start and end time, instructions, or notes, and the activity is added to the

route

The planning form can be configured to your needs to include any custom fields

required.

Scheduled appointments are synced to the calendar app on their mobile device. Reps

are reminded of appointments via the calendar notifications.

Reps can add stops or modify the schedule at any time.

| | |
| --- | --- |
| When starting the route, Reps navigate to each Account by simply tapping "Navigate" on the Account pin, using any of the navigation apps installed on the device. | |
Activity Planning schedules can also be loaded using Pepperi's API or Integration Platform. This enables loading appointments in bulk for multiple users.