This article is a continuation of the explanation of configuring Sales Transaction Types.
Transaction Type setup involves several sections: General Info, Views and Forms, Actions, Workflows, ePayment, Settings, and Fields.
This article will walk you through the Actions, Workflows, ePayment, Settings and Fields tabs (General Info, and Views and Forms are detailed in the article: Sales Transaction Types - Order, Invoice, Quote, Return and more).
Sections in this article:
Actions

The Actions tab allows you to configure exactly which fields are duplicated when an order is duplicated. Duplicating an order is done in the shopping cart, accessed in the menu. 
When duplicating an order, you may not always want all fields copied to the duplicate. For example, discounts given in one order that should not be copied to the duplicated order. Order remarks and delivery dates may also not be relevant for the duplicate order.
There are two configuration options. 
Duplicate Transaction - when duplicating an existing transaction for the same customer.
Duplicate for Different Account - when duplicating an existing transaction for a different customer.
Click on the form to configure. Open each section of fields and tick the fields that should be duplicated.
Click Save.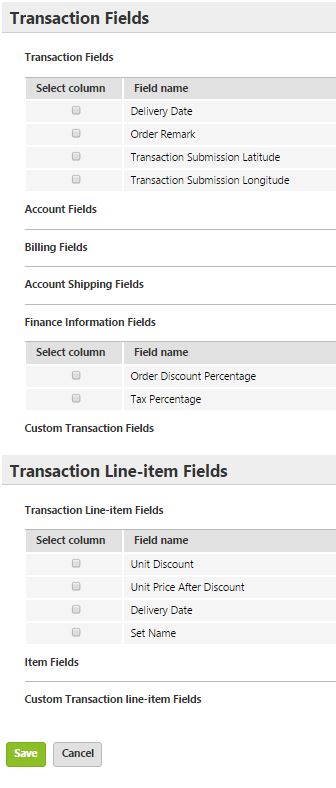 From now on when sales reps duplicate an order in the cart, only the fields selected will be duplicated.
Workflows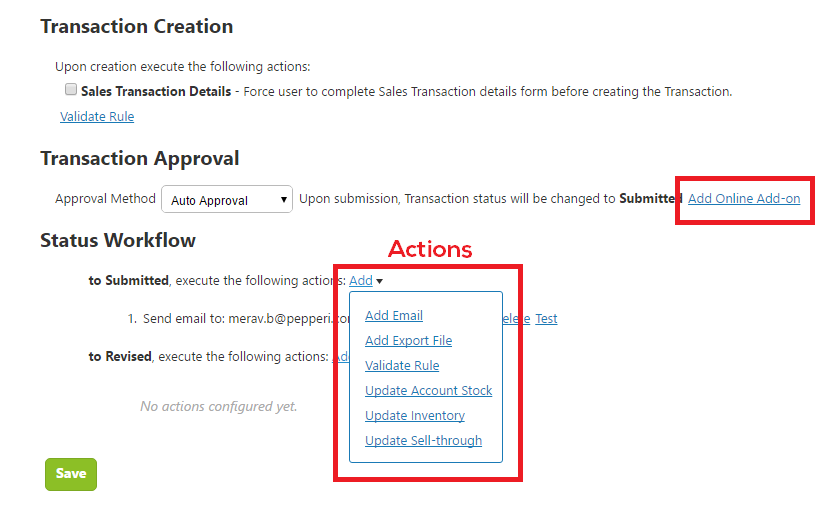 Define actions triggered by the following Sales Transaction status changes: 
to Submitted
to Revised
to Awaiting Approval (Admin Approval method only)
to Paid (Payment approval method only)
Note: Pepperi has released an advanced Workflow configurator. It allows you to define many more types of actions (such as alerts, conditional alerts, branches, custom forms and more), and allows actions to be triggered for ANY combination of status changes (not just the 3 supported in the basic workflow). For more information and a detailed explanation see: Workflow Designer. To enable the new Workflows you must contact us.
1. Define your approval method:
Auto Approval - Orders change to "Submitted" status when submitted by user.
Admin Approval - Orders change to "Awaiting for Approval" status when submitted by user. After the Pepperi admin user reviews and submits the orders on the Web Admin interface they will change to "Submitted" status.
Payment - available if you configure the payment provider info in the ePayment tab. Payment will be taken after the order is submitted. Payment may be forced, or optional - this is set in the ePayment tab (see details in the ePayment section below). Orders that are submitted will change to "Paid", "Needs Payment" or "In Payment" status, depending on what is returned by the provider. You may define actions (such as email notification or a webhook, etc.) that are triggered when the payment status is returned.
Add Online Add-on - executes an online query or web service when the Transaction is submitted. For more information see: Order Center / Cart Add-ons
2. Add Actions for each status change
Upon status changes, the following actions can be triggered:
Add Email - sends an email with a configurable subject and text with an attachment of a Transaction to the recipients defined, including customers. Configuration is detailed below.
Add Export File - exports a file with the Transaction data and details every time a Transaction goes into this status. The file type exported is typically an XML file (default template provided by Pepperi) formatted to be integrated to a back office system, such as an ERP. For more information on the format of this XML file see: Export Order File with XML extension (not txt extension)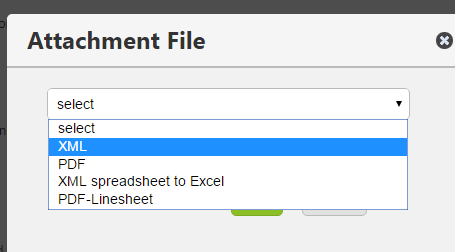 Validate Rule - evaluates a rule written in the business rule engine that allows you to insert business logic into the Transaction real time and off line. More information and examples about the Rule Engine may be found here: Pepperi Rule Engine
Update Account Stock - you can automatically add the quantities of items ordered by the customer to the "customer's" stock count. This action is useful because it allows you to create a filter in the catalog based on items previously ordered by that specific customer, which can then act as a quick reference during ordering. For details on how to create this type of filter see: Update Account Item Stock
Update Inventory - automatically deducts the quantities ordered from the item's inventory in your inventory count - the distributor inventory (not the customer stock). If this option is not selected inventory may be updated in Pepperi by an update of item information via uploading an Excel file or automatically via ERP Integration.
Update Sell-through - allows the sell-through quantity (items sold by the customer at their location) to be automatically updated at the time of submitting the order.
Add Email:
Indicate which export file type to email to each recipient for each status change.
Allows you to add multiple email destinations (To, Cc, Bcc, customer's email), customize the subject, the message body and attach any files (typically PDF) you select. 
Click "Add Email":
Enter the addresses in the To, Cc, Bcc fields. 
Pepperi allows you to dynamically determine email addresses using variables. You can send an email to a particular role in your organization (ie a brand manager role, or catalog manager role) whose email address may change over time. You can update the address in one place, and Pepperi will retrieve it wherever it may be used in your configuration. For details on how to configure this see: Pepperi's dynamic email notifications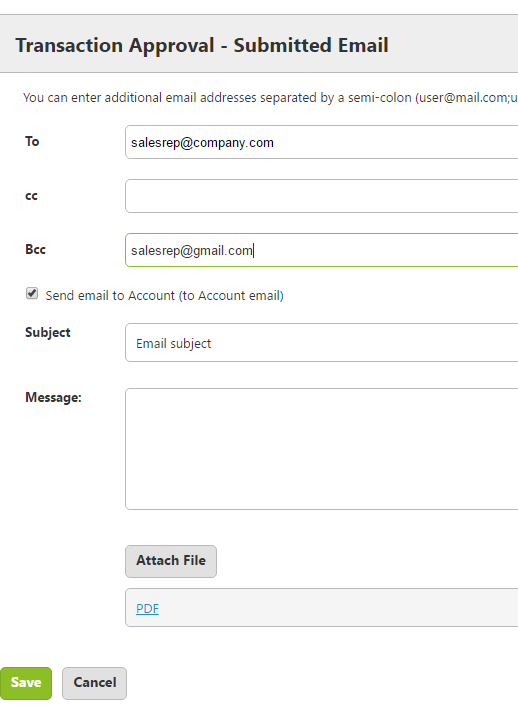 Tick "Send email to Account" if you wish an email to be sent to the Account (customer) for this Transaction status change. The email will be sent to the email address that is loaded for this customer.
Customize the Email Subject and Message Body:
You can customize the subject and message body as predefined text or to include order information such as the order status or any other fields. 
Click the Edit link next to the Subject or Message sections and select the email configuration file that contains the customized fields. For instructions on how to use the email configuration file see: Configuration Files.
Alternatively enter a static text in the "Use plain text message" area that will be displayed in the subject or message body.
Attach File
The options available for File attachments are the configuration files you defined in the Configuration Files section. Here you will find the templates that will generate the file attachments upon submission of the transaction and that may be sent along with the email. The default "PDF" is of course typically the file that you wish to send. The format of the PDF can be configured in the Views and Forms Tab under "PDF HEader" and "PDF Cart". For details on configuring the layout see: Sales Transaction Types - Order, Invoice, Quote, Return and more
If you have created a different XSLT file for the PDF, select it from the Configuration Files you defined.
After clicking Save you are brought back to the Workflow Tab where you can click Edit, Delete or Test the action you defined.
Clicking "Test" will download the file you defined and if an email is part of the action then an email will be sent to the recipient you choose.
3. Defining additional status change Workflows for "Waiting for Approval" or "Revised"
If you selected Admin Approval method, you will be able to define additional actions to run when a user submits an order and it changes to "Waiting for Approval" status until the admin user submits it.
If you selected "Auto Approval" then that status change "Awaiting for Approval" will not be available to you.
However, the status change to "Revised" may be relevant, even if you selected Auto Approval because the Admin can always Revise orders that have been automatically approved and submitted - see How to Revise Orders.
For example: If you are using Pepperi Storefront for your customers to order directly from your catalogs and they are submitting orders that the Admin has to revise, you can define another set of actions for status change to "Revised".
ePayment
Configure ePayment for customers to make a payment via PayPal, eWay (Australia), authorize.net or other payment gateways (contact us if you need integration to a different gateway) at the time they submit a Transaction.
You can configure the payment screen to come up automatically after they click Submit and force the user to enter a payment, otherwise you can make payment optional by asking the user "Do you want to continue to make a payment?"
For details on entering ePayment setup information see: ePayment Configuration.
Settings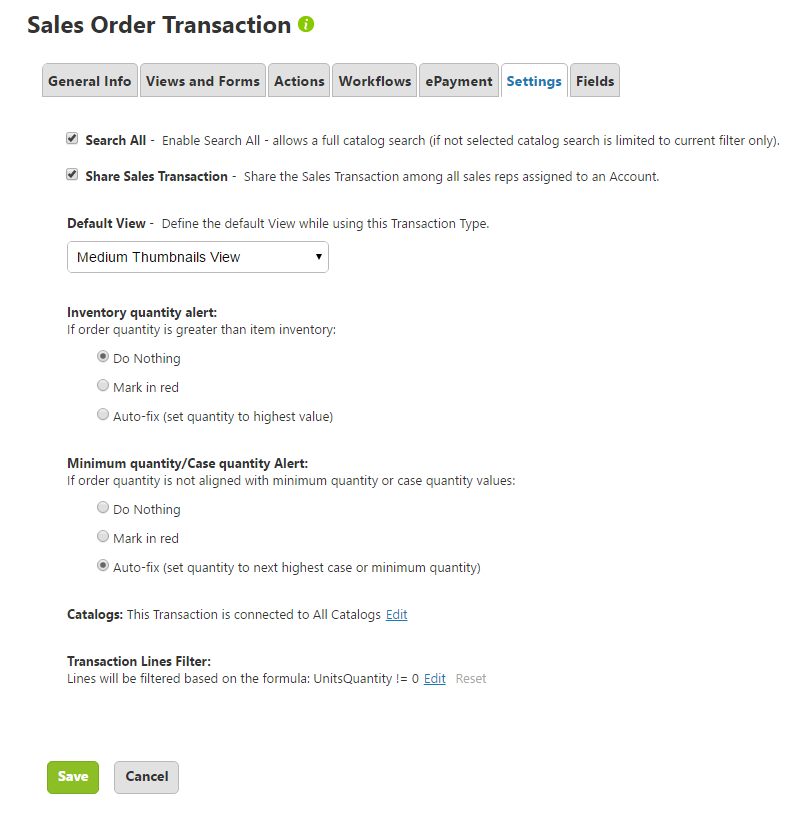 The Settings Tab allows you to select the following options:
Search All - if selected, allows a full catalog item search (if not selected catalog search is limited to the current filter only).
Share Sales Transaction - Shares this Transaction Type among all sales reps assigned to the Account (relevant if you have multiple users assigned to the same Account).
Default View - defines the default catalog view to be displayed when entering the catalog when using this Transaction Type.
Inventory quantity alert - define an action if a quantity greater than the inventory for the item is entered - Do nothing, Mark in Red or Auto-fix.
Minimum/Case Quantity alert - define an action if order quantity entered is less than minimum quantity or not a multiple of the case quantity - Do nothing, Mark in Red or Auto-fix.
Mark in red - only marks the quantity in red.
Auto-fix - changes the quantity to the closest correct quantity.
For inventory alert - quantity will be changed to the inventory value that is in stock for that item. Example: If the inventory is 25 and 40 was entered for the quantity (or any value greater than 25), the auto-fix will change the quantity to 25.
Minimum quantity / Case quantity Alert
If minimum quantity is set for the item - quantity will be changed to the minimum quantity defined for that item. Example: If the minimum quantity defined is 50 and 23 was entered for the quantity (or any value less than 50), the auto-fix will change the quantity to 50.
If case quantity is set for the item - quantity will change to the next multiple of the case quantity defined for that item. Example: If the case quantity defined is 12 and 50 was entered for the quantity, the auto-fix will change the quantity to 56 (the next multiple of 12 after the quantity entered, in this example 50).
Do Nothing - will not change the quantity entered. The order will be submitted with the quantity entered.
 Catalogs - assign which specific catalogs are available in this Transaction. For details on Multiple Catalogs see: How to Create Multiple Catalogs.


Transaction Lines Filter - allows you to enter logic to indicate which items should make it into the shopping cart (regardless of quantities added in the order center). For example, force a "shipping" item or a "display" item to be added to the shopping cart by indicating those item codes in the logic. Or prevent items above/below a certain quantity from being added to the shopping cart. This filter overrides items the user may have added in the order center.
Fields
The Fields tab for Transaction Types allows you to view existing or create new data fields for use in the various transaction forms and layouts. Custom fields allow you to import any data you require to Pepperi, text, numbers, menus, booleans, images, email, signature drawing, etc..
You can view existing Transaction Fields and you can also create your own custom Transaction fields that you require to use on the forms and layouts.
Any custom fields you have already created via the "Add Custom Field?" button at the bottom of all the Available Fields lists in the various forms of the Sales Transaction will appear here as well.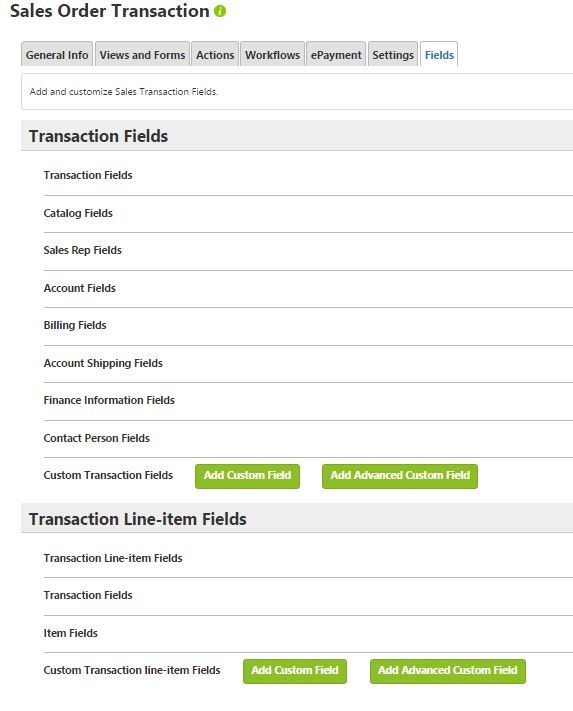 Transaction Line-item Fields
These are fields that appear on a line-by-line basis for each item in the cart.
You can create your own Custom Transaction line-item Fields. For example a custom field of type text, for entering line item remarks. Or a custom field of type drop down menu, to allow selection of an additional product variant/option in the cart for each line, ie a width of a shoe.
These will be displayed on a line-by-line basis for each item in the Cart.
After creating custom Transaction Line-item fields, they will be available for use in the layout of the Order Cart and PDF Cart.
See the line item fields in the example below: Delivery Date (a custom field of type Date), Remark (type single line text), Shipped (type checkbox)