When you're at a trade show you need to quickly capture contact details and other information of potential buyers walking into your booth. You may also want to send an automatic branded confirmation email to these contacts.
Once the show is over, you will need an email list that includes all the info you captured, saving you the tedious task of business card scanning and lead processing after the show.
Pepperi enables you to do this using configurable Activity forms.
Create an Activity form (just like any other Pepperi Activity you may be using such as a visit report or a merchandising activity) including any fields you require - text, email, image (to capture both sides of the card), paragraph summary, numerical, etc. You can even build a survey into the form, asking some basic qualification questions.
The trick is, not to associate the Activity with any Account (because you are just gathering information not relevant to the customers you already have loaded to Pepperi). To do this, in the Activity, go to the Accounts tab and select "This Activity will not be associated with any Account", as shown here:
(if you do not have the Accounts tab enabled, contact support and we will enable it for you)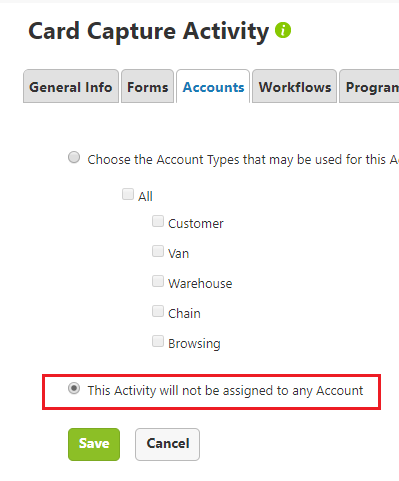 You can export contact lists from Pepperi based on the information you gathered. Create an Activity List filtered on this capture Activity with the fields you require in your spreadsheet, view the list in the Managers App, and easily export it to Excel.
You can create various types of lists, filtered on different responses received in the form:
- Contacts from medium to large size businesses
- Leads in the Northeast region
- People who said they would be interested in hearing more about a certain product
Using the Email action in the Activity Workflow you can also automatically send a branded confirmation email to the contact right after their form is submitted (from your own SMTP server with "Reply to" settings), reminding them that they stopped by your booth and you will contact them after the show. For more information see:
Setting your own SMTP server to send Pepperi email notifications
Creating Activity Forms for Sales Reps / Merchandisers