You can fully configure the layout of the Account Dashboard - including the  Menu, Header, Toolbar, Recent Activities, Upper/Lower Dashboard.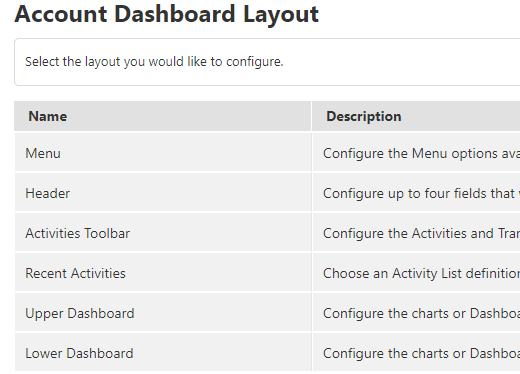 Header
The Header tab allows you to select up to four fields to be shown in the Account Dashboard Header. Learn more...

Recent Activities
You can limit the types of Activities that are available in the Recent Activities scroll bar. You may want to show only the important ones for reference, so the bar doesn't get filled up with less relevant historical data. 
You may limit this by creating a dedicated Activity List filtered by type and status.
In the Recent Activities layout select the dedicated Activity List you created for this purposethat contains the types and statuses of Activities for display across the bar. To learn more about how to create Activity Lists: Sales Activity Lists
Activities Toolbar and Menu
Select the options you wish to appear in the Toolbar VS. those that will appear in the Menu. The Toolbar is limited to seven items, while the Menu has no limit.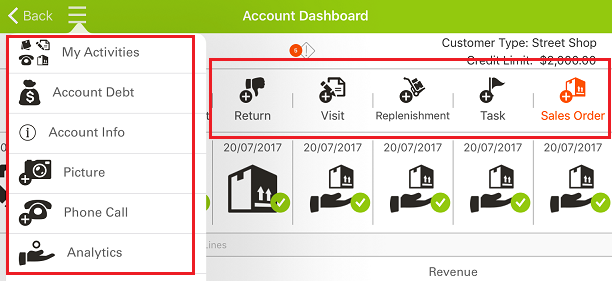 Dashboard
Add any charts, graphs and tables queried from your database systems to the Account Dashboard. 
You will need to create them as "Widgets" in Pepperi and then position them as tabs on the upper and lower account dashboards.
To learn how to upload data for widgets: Account Dashboard Customization using your own data
For example: upload data about Sales by Brand, Commissions, Product Lines, Order Types.