Account Dashboard Customization
You can now fully customize the Account Dashboard - including the Recent Activities, Upper and Lower Dashboard.
The Activities Toolbar and Activities Menu remain customize-able as well, they have been moved to separate tabs in the Account Dashboard Customization -> Activities Toolbar and Menu tabs.
Header
The Header tab allows you to select up to 4 fields to be shown in the Account Dashboard Header. Learn more...

Recent Activities
Recent Activities now allows you to select Activity Lists (before it was just single activities) for display in the Recent Activities bar. To learn more about how to create Activity Lists: Sales Activity Lists
Activities Toolbar and Activities Menu
Select the Activities you wish to appear in the Toolbar VS. those that will appear in the Menu. The Toolbar is limited to 7 items. The Menu has no limit.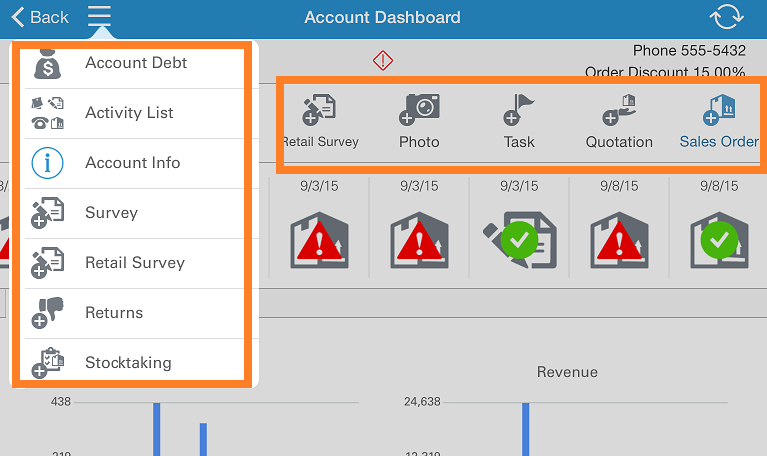 Dashboard
Add any charts, graphs and tables queried from your database systems to the Account Dashboard. 
You will need to create them as "Widgets" in Pepperi and then position them as tabs on the upper and lower account dashboards.
To learn how to upload data for widgets: Account Dashboard Customization using your own data
For example: upload data about Sales by Brand, Commissions, Product Lines, Order Types.